This Simple Chart Shows Why Bitcoin Remains Bullish on a Macro Scale
Bitcoin has sustained a strong drop over the past few days as legacy markets have undergone a strong correction after a record rally. The leading cryptocurrency traded around $9,800 on Friday morning as bears sent the cryptocurrency lower. This is a stark correction from the $12,000 local highs seen just days ago and the $12,500 […]
Bitcoin has sustained a strong drop over the past few days as legacy markets have undergone a strong correction after a record rally. The leading cryptocurrency traded around $9,800 on Friday morning as bears sent the cryptocurrency lower.
This is a stark correction from the $12,000 local highs seen just days ago and the $12,500 seen in August.
Bitcoin remains bullish on a macro scale, though, as analysts note that the asset's long-term chart and fundamentals remain skewed to appreciation.
Bitcoin Remains Bullish on a Macro Time Frame: Analyst
Bitcoin remains bullish on a macro scale despite the recent drop, one analyst noted in the wake of the correction.
He shared this chart below, which shows BTC printing a clear bounce off a pivotal macro level, suggesting it has turned into support. Not to mention, BTC is currently in a macro bullish market structure due to the break above $10,500 just weeks ago.
Also discussing how Bitcoin's funding rate on BitMEX and premium crashed as investors sold the cryptocurrency in mass quantites, the
"$BTC funding and premium index reached the lowest it had been since March 19th yesterday… Except this time we're retesting a multi-year S/R level with a confirmed bullish break in MS all the way up to the monthly chart…"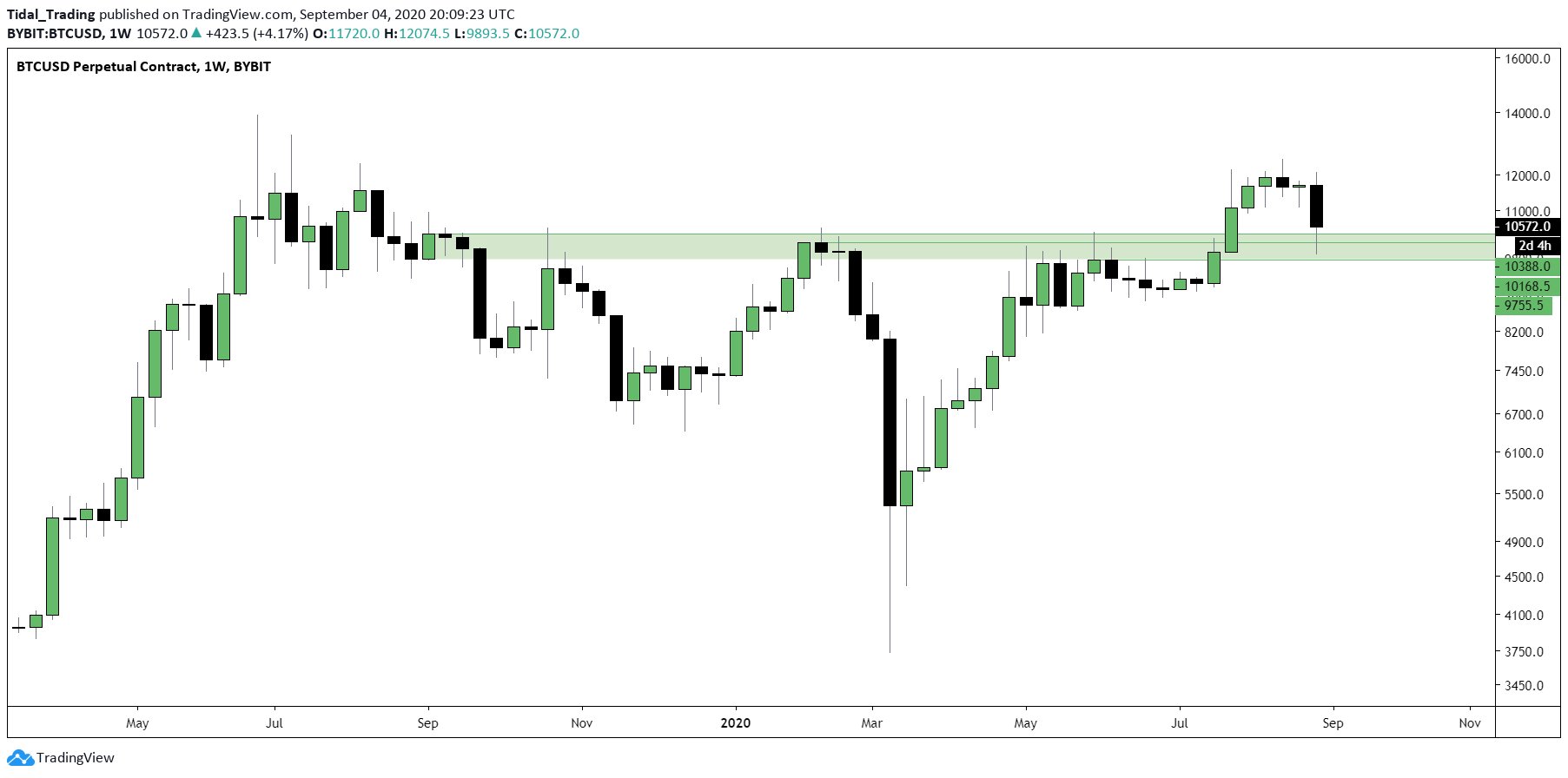 Chart of BTC's macro price action with analysis by crypto trader HornHairs (@CryptoHornHairs on Twitter). Chart from TradingView.com
Adding to this, Bitcoin's relative strength index, a measure of the severity of price action, reached notable lows during the drop on Friday. The commonly-used indicator hit the lowest value since the March capitulation.
After March's crash, BTC underwent a strong bounce that brought it back to pre-crash levels within three months.
Not the Only One That Thinks So
This trader isn't the only one that thinks Bitcoin is still positioned to appreciate in the longer run. Raoul Pal, CEO of Real Vision, commented last week on comments from the Federal Reserve's Jerome Powell on future inflation:
"Most people don't understand the latter but is simply put, Powell has shown that there is ZERO tolerance for deflation so they will do ANYTHING to stop it, and that is good for the two hardest assets – Gold and Bitcoin. Powell WANTS inflation. I don't think he gets true demand push inflation but he will get fiat devaluation, in conjunction with the other central banks all on the same mission."
Others that have shared bullish long-term sentiments include Arthur Hayes of BitMEX, Mike Novogratz, and Pantera's Dan Morehead.
Featured Image from Shutterstock
Price tags: xbtusd, btcusd, btcusdt
Charts TradingView.com
This Simple Chart Shows Why Bitcoin Remains Bullish on a Macro Scale
Source: https://www.newsbtc.com/2020/09/05/simple-chart-shows-why-bitcoin-remains-bullish-macro-scale/?utm_source=rss&utm_medium=rss&utm_campaign=simple-chart-shows-why-bitcoin-remains-bullish-macro-scale
Mark Cuban Slams Peter Schiff: Gold is Dead, Bitcoin and Ethereum Are Today
Mark Cuban hasn't always been the biggest fan of Bitcoin, Ethereum, and other cryptocurrencies, but he's recently come around as other Shark Tank investors have.
Surprisingly, though, Cuban has come to the defense of the emerging technology, telling gold bug and vehement digital asset naysayer Peter Schiff that his precious metal is now dying as a store of value at the hands of the cryptocurrencies like Bitcoin and Ethereum.
Billionaire Shark Tank Investor Schools Peter Schiff On Crypto
It isn't at all uncommon to find long-time gold bug Peter Schiff trashing cryptocurrencies ever chance he gets from his Twitter account soapbox. He's even slammed his own son for buying Bitcoin in the past – an investment that proved dear old Dad very wrong.
Related Reading | "Wonderful" Shark Tank Investor Shifts Portion of Portfolio To Bitcoin and Ethereum
He took a recent opportunity to bash the asset class, surprised that "smart investors" on Wall Street were "dumb enough" to buy into Bitcoin and other digital assets, but was met with a sharp-tongued response from billionaire investor and entrepreneur Mark Cuban.
Let me help Peter. Gold is hyped as much as Crypto. Do we really need gold jewelry? Gold can make you a ring. BTC/Eth are technologies that can make you a banker, allow friction free exchange of value and are extensible into an unlimited range of biz and personal applications https://t.co/pJPdEAl5gq

— Mark Cuban (@mcuban) March 2, 2021
Cuban blasted back at Schiff offering his "help" in explaining the charm behind the emerging technology. According to Cuban, gold is dying as a store of value, because it cannot adapt and change to address the current or future needs of society. Bitcoin and Ethereum, however, can.
Bitcoin and Ethereum have recently turned Mark Cuban and other sharks into believers | Source: BTCUSD on TradingView.com
"Gold Is Dead," And How Mark Cuban Came Around To Bitcoin And Ethereum
Mark Cuban, who knows a lot about tech revolutions starting from the ground up, says that the current use cases for crypto are just "proof-of-concept" and advances will change the asset class in the years to come. Meanwhile, gold will always stay exactly the same.
The fact that these technologies have evolved over the past several years are what have won over the Shark Tank investor and peers among his panel on the popular ABC primetime show.
Related Reading | Overheard On CNBC: If It Wasn't For Bitcoin, Gold Would Be $3K
Cuban has recently become enamored with NFTs, Robert Herjavec is a "big believer" in the long-term future of the technology, and even Mr. Wonderful Kevin O'Leary has moved a portion of his portfolio into Bitcoin and Ethereum.
As more high wealth investors become convinced in the cryptocurrency's staying power, the more that are moving capital into the asset class. Gold, on the other hand, is still the same asset it always has been and is always going to be, and doesn't need any further convincing.
Rather than Peter Schiff attempting to convince investors why they shouldn't buy crypto, perhaps he should be more focused on why they shouldn't sell their dying store of value – gold – instead.
Featured image from Deposit Photos, Charts from TradingView.com
Source: https://www.newsbtc.com/news/bitcoin/mark-cuban-gold-bitcoin-ethereum/
BitMEX's Arthur Hayes and Ben Delo negotiate surrender to U.S. authorities
The former CEO of crypto derivatives exchange BitMEX, Arthur Hayes, is in negotiations to surrender to U.S. authorities next month concerning charges that authorities levied against four of the exchange's executives and co-owners in October.
Transcripts of a court teleconference dated Feb. 16 indicate Hayes will surrender to the U.S. in Hawaii on April 6. Hayes and his fellow executives are accused of violating the Bank Secrecy Act by the U.S. Department of Justice and the Commodity Futures Trading Commission.
The transcript details the assistant U.S. attorney Jessica Greenwood's comments to the judge presiding over the case, with Greenwood indicating she has been in talks with Hayes regarding the anticipated voluntary surrender. Hayes is currently located in Singapore, with the attorney noting Hayes hopes to continue residing abroad but will appear within the United States for proceedings should the trial go to court.
"We have discussed with counsel how to arrange for a voluntary surrender, and he has proposed appearing within the United States in Hawaii and having his initial appearance there and then," she said, adding:
"The idea would be that he would appear initially in Hawaii, then appear before your Honor remotely, and then he would continue to reside abroad with travel to the United States for appearances as needed and, of course, if there is a trial, that he would appear within the United States for that trial in New York."
Greenwood also revealed that BitMEX co-owner Ben Delo intends to surrender in New York by the end of the month. However, she noted they are currently working with the FBI and Border Patrol to obtain immigration authorization allowing him to travel to the United States, despite Delo currently being subject to a U.K. travel ban.
The attorney also stated that while fellow co-owner Greg Dwyer has declined to surrender, extradition proceedings have been initiated to bring him back from Bermuda.
"With respect to the remaining three defendants, […] we've been in contact with counsel discussing the possibility of appearing. They've all made representations about for when and how they'll appear," Greenwood said. However, she added:
"We have no guarantees at this point that any of those things will happen."
BitMEX CTO, Samuel Reed, was arrested in Massachusetts as the charges were being levied against BitMEX in October. Reed was released from custody after a $5 million bond was paid that same month, with Reed agreeing to comply with sentencing proceedings.
In response to the hearing, the judge determined it wasn't "reasonably possible" for a motion and trial schedule to be established. The judge scheduled a follow-up conference for May.
Last month, Hayes broke months of silence to post an article to BitMEX's official blog calling for a boycott of legacy finance in response to trading platforms shutting down trade amid the GameStop pump engineered by subreddit, r/WallStreetBets.
Source: https://cointelegraph.com/news/bitmex-s-arthur-hayes-and-ben-delo-negotiate-surrender-to-u-s-authorities
'I can't believe you morons actually buy this shit': Banksy art burned and tokenized
An original artwork by anonymous British street artist Banksy has been burned and turned into a nonfungible token. The NFT will be auctioned next week on the blockchain-based Rarible platform, where users can create and purchase rare tokenized artworks.
The original Banksy in question is a satirical piece entitled "Morons," which depicts buyers at an art auction bidding on a piece emblazoned with the words "I can't believe you morons actually buy this shit." The piece received certification from Pest Control — the only body authorized to authenticate original Banksy artworks.
"Morons" was sold at Christie's auction house in London in late 2019, where it fetched $32,500 from an anonymous, independent buyer.
The burning of the piece took place at an unknown location in Brooklyn, New York, and was livestreamed via the recently created Twitter account BurntBanksy. The burning was reportedly carried out by a group of cryptocurrency enthusiasts in association with executives from the blockchain project Injective Labs.
The tokenization of the authenticated piece took place without input from the pseudonymous Banksy. However, other prominent artists have seen fit to dip their toes into the crypto world of late, as witnessed recently when famed British artist Damien Hirst announced he would accept bids for his work in Bitcoin (BTC) and Ether (ETH).
The NFT market became an industry unto itself toward the end of 2020, as almost $9 million in token sales was recorded in December 2020 alone. But that was just a sign of things to come, as NFT sales exploded moving into 2021, helped by the validation of several high-profile celebrities such as YouTuber Logan Paul and entrepreneur Mark Cuban.
On Sunday, acclaimed Canadian musician and artist Grimes launched an NFT collection titled "WarNymph", which went on to sell for a collective $5.8 million. The NBA recently embarked on a joint venture with CryptoKitties creator Dapper Labs to launch NBA Top Shot — an NBA-themed digital token marketplace that has reportedly generated $230 million in sales since launch.
The "Morons" piece is not the first Banksy to be destroyed on purpose. In 2018, Banksy's "Girl With Balloon" automatically self-destructed shortly after selling for $1.4 million at Sotheby's. The artist later revealed that he had installed an automatic shredder in the painting's frame in case it ever went to auction. In an ironic twist of fate, the destroyed Banksy is now thought to be more valuable than the original piece ever was.
The "Morons" NFT will be auctioned on Rarible on Tuesday next week. All proceeds from the auction will be donated to charity. The successful bidder will be entitled to receive the certificate of authentication from Pest Control; however, this too will be burned if it is not claimed within two weeks of the sale.
In an art industry fraught with fakes and forgeries, "Morons" may now be the most authentic, most secure Banksy piece in the world. Once logged on the blockchain, the possibility of it being forged, altered or manipulated in any way is close to zero.
Given Banksy's rejection of the bloated, materialistic art world, what would he think of the current mania surrounding NFTs? Keep an eye on your local graffiti spots. The answer may be forthcoming.
Source: https://cointelegraph.com/news/i-can-t-believe-you-morons-actually-buy-this-shit-banksy-art-burned-and-tokenized