TA: Bitcoin Topside Bias Vulnerable, Why BTC Could Dive Below $35K
Bitcoin price is facing a couple of strong hurdles near $36,750 and $37,800 against the US Dollar. BTC could decline heavily if it breaks the $34,800 support zone.
Bitcoin is struggling to gain bullish momentum above the $36,750 and $38,000 resistance levels.
The price is now trading well below $38,000 and the 100 hourly simple moving average.
There is a major bearish trend line forming with resistance near $36,400 on the hourly chart of the BTC/USD pair (data feed from Kraken).
The pair is likely to accelerate lower if it fails to stay above the $34,800 support zone.
Bitcoin Price Showing a few Bearish Signs
After a failed attempt to settle above $38,000, bitcoin price started another decline. BTC broke the $36,400 and $35,500 support levels to move into a short-term bearish zone.
The price even spiked below $34,500 and settled below the 100 hourly simple moving average. A low was formed near $33,930 before the price started a decent upward move. It climbed above $35,500, but it seems to be facing a strong resistance near $36,750.
A high is formed near $36,888 and the price is currently showing a few bearish signs. It already traded below the 23.6% Fib retracement level of the recent wave from the $33,930 low to $36,888 high.
Source: BTCUSD on TradingView.com
There is also a major bearish trend line forming with resistance near $36,400 on the hourly chart of the BTC/USD pair. On the downside, an initial support is near the $35,800 level and a connecting bullish trend line. A clear break below $35,800 might call for a test of $35,400.
The 50% Fib retracement level of the recent wave from the $33,930 low to $36,888 high is at $35,400 to provide support. Any more losses could accelerate the decline and bitcoin price might dive below $35,000 and $34,500. In the stated case, there is a risk of a break below the $34,000 support zone.
Chances of an Upside Break in BTC
If bitcoin stays above the $35,800 and $35,400 support levels, there are chances of an upside break. The first major resistance is near the $36,750 level.
The main resistance is now forming near the $37,800 and $38,000 levels. A close above the $38,000 level is must to start a strong increase towards $40,000 or even higher in the near term.
Technical indicators:
Hourly MACD – The MACD is slowly losing momentum in the bullish zone.
Hourly RSI (Relative Strength Index) – The RSI for BTC/USD is struggling to stay above the 50 level.
Major Support Levels – $35,400, followed by $34,000.
Major Resistance Levels – $36,750, $37,800 and $38,000.
Source: https://www.newsbtc.com/analysis/btc/bitcoin-btc-could-dive-below-35k/
Spanish Banking Giant BBVA to Launch Bitcoin Trading and Custodial Services in Switzerland
After conducting tests for several months, the Swiss branch of the large Spanish bank – Banco Bilbao Vizcaya Argentaria (BBCA) – has announced plans to release two services related to the cryptocurrency industry.
According to the official statement, private banking customers based only in Switzerland will have the option to trade bitcoin and other digital assets starting from Monday – June 21st.
BBVA's second service will enable its clients to store their digital assets on a regulated platform, and both initiatives will launch simultaneously.
Nevertheless, the entity has no plans to offer advice or actively manage any funds related to cryptocurrency investments.
Alfonso Gomez, CEO of BBVA Switzerland, explained that these services come after an extended trial period and enhanced customer demand.

"This gradual roll-out has allowed BBVA Switzerland to test the service's operations, strengthen security, and, above all, detect that there is a significant desire among investors for crypto-assets or digital assets as a way of diversifying their portfolios, despite their volatility and high risk." – he added.

The services and a bitcoin management system will also be available in the bank's mobile application. Users will be able to use to review their investments and track their performance.
The bank will provide a personalized digital wallet, which will enable customers to convert BTC and other digital assets to euros or other fiat currencies, and vice versa. The process will be automatic, "without delays and without the illiquidity that affects other digital wallets or independent brokers."
SPECIAL OFFER (Sponsored)
Binance Futures 50 USDT FREE Voucher: Use this link to register & get 10% off fees and 50 USDT when trading 500 USDT (limited offer).
PrimeXBT Special Offer: Use this link to register & enter POTATO50 code to get 50% free bonus on any deposit up to 1 BTC.
---
Coinsmart. Beste Bitcoin-Börse in Europa
Source: https://cryptopotato.com/spanish-banking-giant-bbva-to-launch-bitcoin-trading-and-custodial-services-in-switzerland/
Polkadot, EOS, IOTA Price Analysis: 18 June
The cumulative market cap of the cryptocurrency sector was $1.57 trillion at press time, having fallen by 2.39 percent since yesterday. The market's alts were falling too, with the likes of Polkadot, EOS, and IOTA seeing red on the charts. While Polkadot continues to maintain its position in the top 10, EOS was ranked 27th while IOTA was ranked 40th.
Polkadot [DOT]
DOT fell from a recent high of $26 to $22.34, its price at press time. Its 24-hour trading volume was down by 31.28 percent at $1 billion. Its price dropped by 6.3 percent in just 24 hours.
The coin has not dipped below the $20-resistance mark since the beginning of this month. However, after climbing to a high of $28.5 on 3 June, the alt's price went sideways and did not cross the lower high of $26. There may be a further dip in the price, as evidenced by the findings of the Parabolic SAR.
The Stochastic RSI at the lower end, below 20, suggested that the prices may rise, however, following a reversal. Finally, the Chaikin Money Flow was below zero and pointed to high capital outflows and the likelihood of a further drop in price.
EOS
Even though EOS had made a decent recovery toward the end of May, it slumped again from a high of $7.7. Its price continued to drop today, dipping by 3.8 percent.
Consolidating between the $4.4 support and $5.4 resistance since 8 June, the coin was changing hands at $5, at the time of writing.
The parallel Bollinger Bands showed no signs of volatility and dominant bearish momentum was displayed by the Awesome Oscillator. The Relative Strength Index indicator was moving upwards, indicating growing buying pressure.
IOTA
After a significant drop from $ 1.2 a few days ago, IOTA was still trading in the red after dropping by 3.6 percent in the last 24 hours. At $31 million, its 24-hour trading volume had dropped by 28.29 percent.
Over the last ten days, its price did not breach the $ 1.2-resistance mark. However, a new support level was established after 13 June. With the indicator below the 20-mark, the Average Directional Index pictured a weak trend which may strengthen in the future, going by its movement.
The MACD and Signal lines were meeting and neither a bearish nor bullish trend was established. The Parabolic SAR's markers were found above the candlesticks and pointed to an upcoming dip.
Coinsmart. Beste Bitcoin-Börse in Europa
Source: https://ambcrypto.com/polkadot-eos-iota-price-analysis-18-june
This Bitcoin HODLer Metric Has Just Flipped Green For The First Time In 8 Months – Here's What This Means
Advertisement & &
The long wait is over, or so it appears as Bitcoin holders prepare to set foot into a green zone after seven months of red hot drought.
The earliest signs of a bullish rebound for Bitcoin were sighted on Glassnode's on-chain metrics this week. Bitcoin users joyfully watched as the index flipped an unprofitable red-run that had gripped hodlers of the apex crypto-currency since mid-November.
Popular crypto expert, Will Clemente noted this latest bitcoin development as a sequel to last month's net holders position outlook which showed a large sales of Bitcoin coming from the camp of inpatient short-term holders.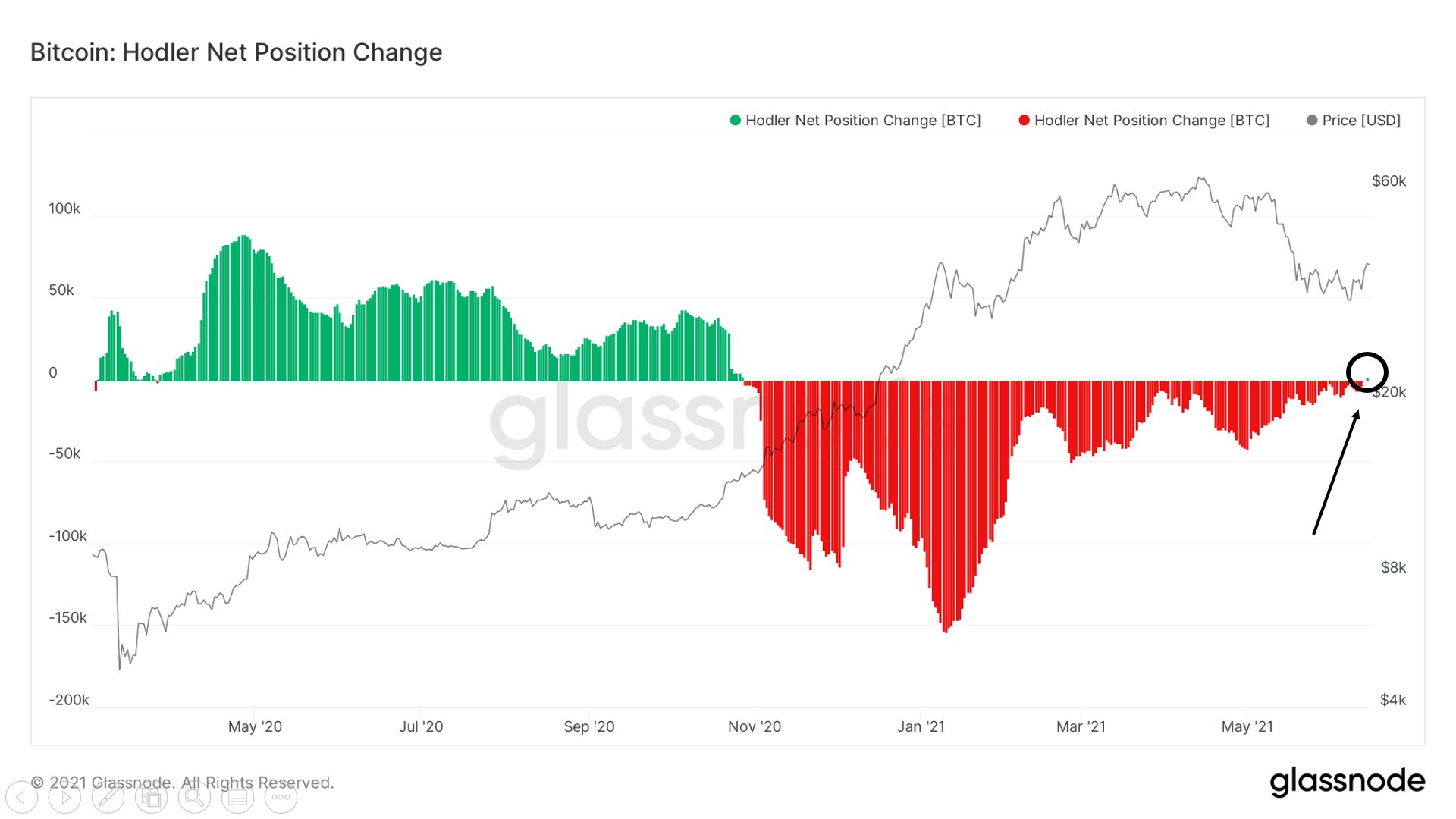 What Does This Imply?
The biggest take from this new index is that patient bitcoin holders may now finally see positive returns on their long-term investments.
It also may show that the market has fully corrected holding positions as was seen last month, where Bitcoin's dip below the $35,000 resistance frightened many new entrants, including young whales (who held large amounts of bitcoin for less than three months), leading to a massive liquidation drive that transferred coins from young holders to old and experienced holders.
Advertisement & &
Who are the catalysts?
It is unclear what exactly may have spruced the ground for a much-needed leap up, but one cannot underestimate the impact of Bitcoin's recent acceptance by the government of El-Salvador. Having emerged as the first of its kind to tear through the government's veil of financial legitimacy, the scale of its operation and use may now become more expanded than ever before. This is most likely to spur more citizens and governments of other countries to innovate their financial system around the digital currency with growing national acceptance.
Others may attribute part of its recent success to Elon Musk's turncoat claims about Tesla returning to Bitcoin, after ditching the currency in a precarious moment.
But one thing inevitably clear, in the world of crypto influencers is the role of Michael Saylor to keep the masts of bitcoin sailing amidst the troubled waters of last month. From a conference to address energy concerns to an additional injection of $1 billion into bitcoin, the CEO of MicroStrategy has done a lot to build resistance for the apex currency.
Going Forward
As Will Clemente spots the early symptoms of progress, it is expected that many investors who remained skeptical about buying and waiting through the dip, would want to cast in their lots before the entry price soars to the point of eroding leverage.
This means more activity for Bitcoin, more health value upshot, and more reward for those who took Robert Kiyosaki's advice to 'buy the dip.'
Coinsmart. Beste Bitcoin-Börse in Europa
Source: https://zycrypto.com/this-bitcoin-hodler-metric-has-just-flipped-green-for-the-first-time-in-8-months-heres-what-this-means/