Pandemic Will Speed Bitcoin Adoption, Says DBS Bank Economist
When it comes to bitcoin, Singapore's DBS Bank sees a "pandemic-led acceleration of adoption."
"A pandemic-led acceleration of adoption."
It's interesting to hear such an observation from a respected multinational bank and its chief economist, Taimur Baig. However, there have lately been murmurings about certain large financial institutions – particularly in places like Singapore, Switzerland and Germany – fielding a new wave of demand for crypto, filtering through from smaller private banks and wealthy clients.
On the subject of cryptocurrencies like bitcoin (BTC), Baig identified two distinct phases of demand: pre-pandemic and post-pandemic.
"Pre-pandemic demand was largely speculative. People saw bitcoin had a spectacular run and wanted to be part of that game, so what's wrong with putting in 1% of assets under management [into BTC]," Baig said in an interview. "But I think post-pandemic is beyond speculative. It's more about, 'This thing has fixed circulation, it will not be debased.' People are worried about dollar outflow and wondering if they should hold crypto in addition to gold as a safe-haven currency."
DBS isn't the only bank to notice this trend. Singapore-based digital asset bank Sygnum, which holds a banking license from the Swiss Financial Market Supervisory Authority, echoed this view.
"Since the outbreak of COVID-19 there has been increased interest from family offices and private individuals who see digital assets as an alternative and a way to protect against a worrying inflation risk," said Martin Burgherr, co-head of clients at Sygnum Bank. "Now that banks are awakening from the lockdown, we have had a significant uptick in national and international banks asking us to help in a B2B setup, to enable their clients to invest in digital assets."
Digital gold
Baig – who has previously held senior economist roles at the Monetary Authority of Singapore, Deutsche Bank and the International Monetary Fund – likes to zoom out and take a macro view of digital currencies and the potential play of central bank digital currencies (CBDC).
There has been a steady rise in gold, while fixed-income yields are heading towards zero, Baig said, and such conditions have also caused "bitcoin to come back quite convincingly."
It's tempting to look at bitcoin through the lens of foreign exchange (FX), as yet another currency with an exchange rate against the U.S. dollar. But this is mistaken, Baig said, since a regular sovereign currency has accepted economic means of evaluation that determine productivity and long-term growth.
"You can't value cryptocurrencies like that," Baig said. "While they can have this credibility with a system-based circulation, they're still not attached to a country's fortune. So, of course, they will not go and up and down the way the U.S. economy goes up and down. From that perspective, it's more akin to gold than an FX in my view."
Dollar pegging
For countries experiencing a currency crisis or episode of hyperinflation, pegging to the U.S. dollar may bring some short-term credibility, but it doesn't work out well for a lot of currencies, Baig noted, adding:
"If you look at Venezuela or even Lebanon, which is in the middle of a massive financial crisis, could you, at some point going forward, conceive that instead of linking your currency to the U.S. dollar, you link it to a cryptocurrency?"
Provided that transactions can be viewed on the blockchain there are possibilities, said Baig. "As long as it's tied to a limited-circulation currency, I see some similarities between that sort of anchoring versus anchoring against the US. dollar," he said.
Digitizing the redback
The topic of CBDCs is also highly politicized, particularly between the U.S. and China.
There are two dimensions to think about when it comes to China and its CBDC efforts at "digitizing the redback," said Baig. Firstly, a digital renminbi (e-RMB) is a way that China's central bank, the People's Bank of China (PBoC), can exercise some control over the country's sprawling fintech ecosystem.
"There's so much going on at the Alipay, Tencent level," Baig said. "Deposits are being made by those fintechs, they are extending credit, so it doesn't really matter what PBoC does with respect to interest rates. It's like a whole parallel universe."
The other dimension concerns the potential for an e-RMB to become a way for certain countries to bypass the U.S. dollar settlement mechanism, which makes them "somehow answerable to the Southern District [Court] in New York" or the Securities and Exchange Commission," said Baig.
"The U.S. dollar has been used repeatedly as a weapon against Iran against other countries and also against China," he said. "I think now with U.S.-China tensions so high the case for e-RMB becomes even more compelling."
Disclosure
The leader in blockchain news, CoinDesk is a media outlet that strives for the highest journalistic standards and abides by a
strict set of editorial policies
. CoinDesk is an independent operating subsidiary of Digital Currency Group, which invests in cryptocurrencies and blockchain startups.
Source: https://www.coindesk.com/dbs-bitcoin-crypto-pandemic
This Bitcoin HODLer Metric Has Just Flipped Green For The First Time In 8 Months – Here's What This Means
The long wait is over, or so it appears as Bitcoin holders prepare to set foot into a green zone after seven months of red hot drought.
The earliest signs of a bullish rebound for Bitcoin were sighted on Glassnode's on-chain metrics this week. Bitcoin users joyfully watched as the index flipped an unprofitable red-run that had gripped hodlers of the apex crypto-currency since mid-November.
Popular crypto expert, Will Clemente noted this latest bitcoin development as a sequel to last month's net holders position outlook which showed a large sales of Bitcoin coming from the camp of inpatient short-term holders.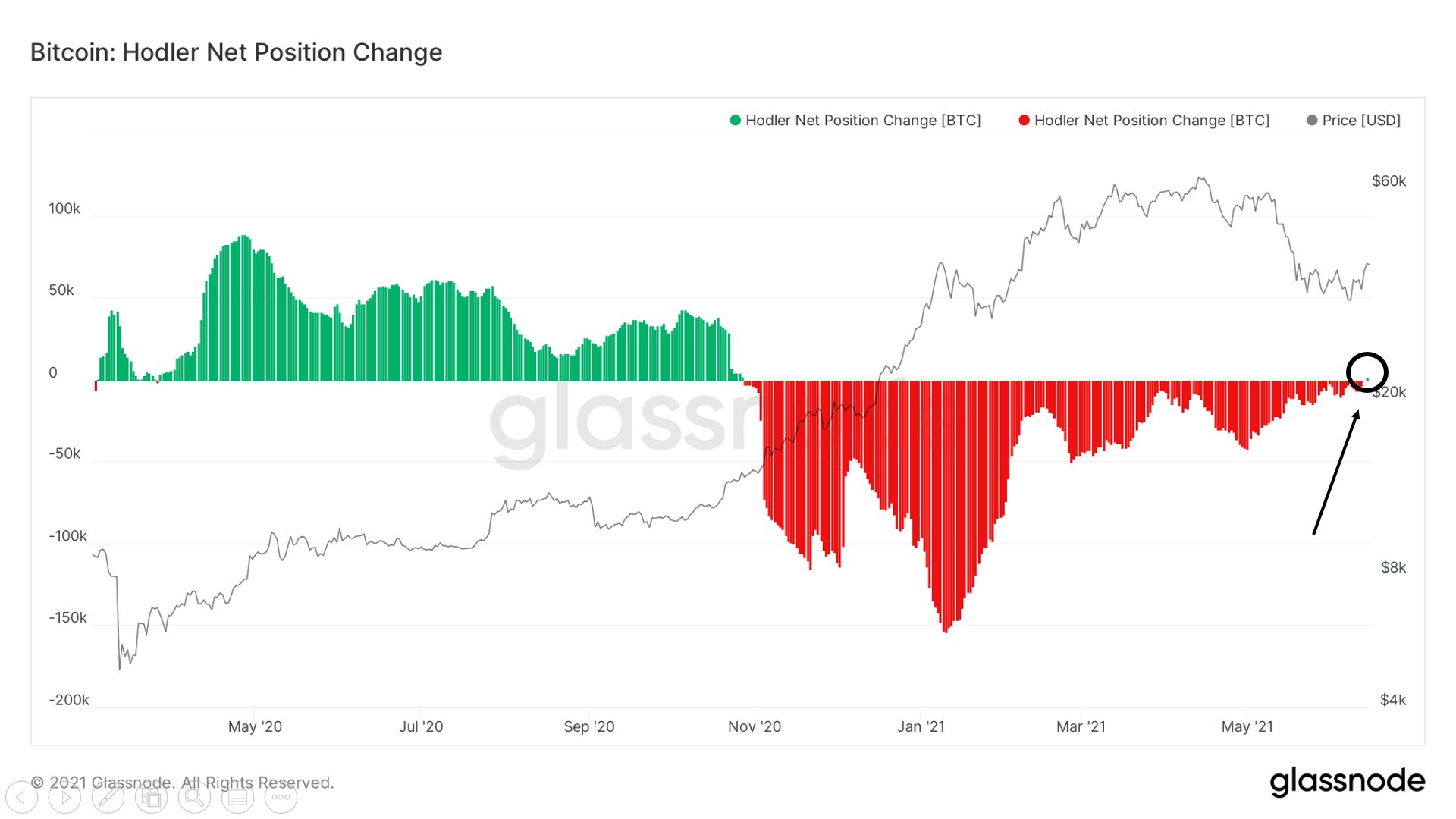 What Does This Imply?
The biggest take from this new index is that patient bitcoin holders may now finally see positive returns on their long-term investments.
It also may show that the market has fully corrected holding positions as was seen last month, where Bitcoin's dip below the $35,000 resistance frightened many new entrants, including young whales (who held large amounts of bitcoin for less than three months), leading to a massive liquidation drive that transferred coins from young holders to old and experienced holders.
Who are the catalysts?
It is unclear what exactly may have spruced the ground for a much-needed leap up, but one cannot underestimate the impact of Bitcoin's recent acceptance by the government of El-Salvador. Having emerged as the first of its kind to tear through the government's veil of financial legitimacy, the scale of its operation and use may now become more expanded than ever before. This is most likely to spur more citizens and governments of other countries to innovate their financial system around the digital currency with growing national acceptance.
Others may attribute part of its recent success to Elon Musk's turncoat claims about Tesla returning to Bitcoin, after ditching the currency in a precarious moment.
But one thing inevitably clear, in the world of crypto influencers is the role of Michael Saylor to keep the masts of bitcoin sailing amidst the troubled waters of last month. From a conference to address energy concerns to an additional injection of $1 billion into bitcoin, the CEO of MicroStrategy has done a lot to build resistance for the apex currency.
Going Forward
As Will Clemente spots the early symptoms of progress, it is expected that many investors who remained skeptical about buying and waiting through the dip, would want to cast in their lots before the entry price soars to the point of eroding leverage.
This means more activity for Bitcoin, more health value upshot, and more reward for those who took Robert Kiyosaki's advice to 'buy the dip.'
Coinsmart. Beste Bitcoin-Börse in Europa
Source: https://zycrypto.com/this-bitcoin-hodler-metric-has-just-flipped-green-for-the-first-time-in-8-months-heres-what-this-means/
Paraguayan Official Confirms: In July We Legislate Bitcoin
Paraguay's Deputy of the Nation, Carlos Antonio Rejala Helman, has confirmed that new legislation in regards to Bitcoin will arrive in July. This comes amid growing adoption in Latin America led by El Salvador, which could be followed by Panama as well.
CryptoPotato reported last week when Rejala Helman said his country planned to start working on an "important project" that included Bitcoin and PayPal
Although he provided little-to-no information at the time about the precise nature of the project, the official confirmed it's coming in a more recent tweet.
Commenting on news indicating that one of Paraguay's largest entertainment organizations has started to accept various digital assets, Rejala Helman emphatically asserted, "This is Paraguay. July we legislate! #Bitcoin."
This comes shortly after Gabriel Silva, a Panamanian congressman, laid out plans to present a bill on cryptocurrency adoption as a legal tender as well.
He believes Panama should not trail other nations from the region that have already taken steps to legalize Bitcoin.
Naturally, he meant El Salvador. The small country located in Central America has been the leader in terms of BTC adoption.
As reported recently, the nation officially voted in favor of a new rule making Bitcoin a legal tender within its borders. El Salvador's President, Nayib Bukele, further outlined his support for the asset and even urged miners to mine BTC with the thermal energy of the country's volcanoes.
SPECIAL OFFER (Sponsored)
Binance Futures 50 USDT FREE Voucher: Use this link to register & get 10% off fees and 50 USDT when trading 500 USDT (limited offer).
PrimeXBT Special Offer: Use this link to register & enter POTATO50 code to get 50% free bonus on any deposit up to 1 BTC.
---
Coinsmart. Beste Bitcoin-Börse in Europa
Source: https://cryptopotato.com/paraguayan-official-confirms-in-july-we-legislate-bitcoin/
The End of NFTs? NFT Sale Transaction Volume Down 95% Since Early May
The NFT price crash that started in May is continuing. What does this mean for non-fungible tokens?
The drop in non-fungible token sales that began in early May seems to be continuing into June.
Finance Magnates previously reported that according to data from NonFungible.com, the week-long period surrounding the NFT market peak at the beginning of May saw $170 million in transaction volume. By the end of the month, that figure had collapsed to just $19.4 million in NFT sales, a decrease of roughly 90%.
According to a new report from CNBC, the drop has continued. On June 15th, the seven-day average NFT transaction volume had fallen to oust $8.7 million. Compared to the market's peak in early May, the new number represents a drop of nearly 95 per cent.
Is this the end of non-fungible tokens?
The Boom and Bust of Non-Fungible Tokens in 2021: A History in Brief
While this may not be the end of NFTs, it's certainly the end of an era. Riding on the tailwinds of the biggest crypto bull market in history, non-fungible tokens made a serious splash when they entered the mainstream in March of 2021. By that point, NFTs had already been around for several years.
However, they had never previously captured the public imagination in such a big way. Investors and speculators saw a new opportunity to try and win big in a rather novel financial market; artists and creators saw a new opportunity to monetize their work in the digital world.
For some, the opportunity paid off–big time. Graphic designer Mike Winkelmann, also known as "Beeple," sold an NFT for a record $69 million at a Christie's auction in March. Around the same time, Twitter CEO Jack Dorsey, sold a tokenized version of his first tweet for $2.9 million the same month. Grimes, Eminem, 3LAU, Lindsay Lohan, and many other celebrities also cashed in on the trend.
However, it wasn't long before the cracks in the walls of the NFT space started to show. Critics of non-fungible tokens decried the practice of minting them, pointing to the possibility of heavy carbon footprints. Many smaller creators who were entering the space for the first time quickly discovered that someone else had already stolen and tokenized their work, much to the chagrin of the collectors who had purchased the fraudulent tokens.
Additionally, reports of "vanishing" non-fungible tokens began to hit headlines as questions about what it really means to own a non-fungible token went unanswered. Because the material that an NFT is associated with is not stored in a Web 3 environment, it is subject to the same kinds of problems that all centralized media is: if an NFT-tied photo disappears from the web, well, tough luck.
Now That the Hype is Over, What's Next?
At first, the criticisms of non-fungible tokens didn't seem to significantly affect the space. However, when cryptocurrency markets were hit with bearish forces in mid-May, non-fungible token markets were decimated. Analysts who operate outside of the cryptocurrency space have written the whole saga off as another crypto fad–novel, exciting, and perhaps interesting, but essentially vapid and hype-driven.
However, Gauthier Zuppinger, the chief operating officer of Nonfungible, told CNBC that the NFT market movements of the last several weeks are closely related to one another: "The thing is that, each time you'll notice such a quick increase on any trend, you'll see a relative decrease, which basically stands for a market stabilization," he told CNBC.
And indeed, data from Nonfungible.com show that after this 95% decrease from the NFT market peak in early May, NFT sales are basically continuing along the trend of slow and steady growth that has been trending over the past several years.
"High-profile NFTs selling for millions of dollars was a sure sign that the market was treating them as speculative assets," said Nadya Ivanova, chief operating officer of L'Atelier, speaking to CNBC. "And by definition, markets for speculative assets are unstable and liable to dry up."
"The bigger question for NFTs is their long-term value, which we believe is likely significant," she continued.
In other words, now that the hype is over, non-fungible tokens can continue along their path of technological discovery.
Suggested articles
New CFDs Now Available for SuperForex ClientsGo to article >>
NFTs in Virtual Reality and Beyond
While the most commonly known use-cases of non-fungible token technology surround the concepts related to digital authenticity and ownership on the internet as we know it, some innovators are exploring an entirely new environment for NFTs: virtual reality.
Forbes recently reported that Space Force partnered with digital artist companies WorldwideXR and VueXR to release their own NFTs with augmented reality features. According to the report, the NFTs are accessible to their owners through the VueXR app, which is available on both iOS and Android.
"As augmented and virtual reality technology matures, normal people are going to spend more and more of their time — and therefore money — in virtual environments," Nadya Ivanova told CNBC.
Non-fungible tokens have already made a splash in the gaming world as technology that could make decentralized ownership of in-game assets into a reality. However, as gaming moves increasingly toward virtual reality, NFTs could take digital ownership to the next level.
"World-builders in VR are looking at ways to make world building a lot more profitable, but there are few companies that are willing to put down money for a virtual world," said Dale Deacon, who is an expert on developing immersive storytelling in VR & AR. He was speaking to VRScout.
NFTs could provide a path toward real-world monetization in virtual economies. "Monetizing the job of being a VR world builder, will be a part of monetizing the role of a world builder."
Now that the hype is being washed out of the non-fungible token space, it's possible that VR innovators could explore their use cases in a more serious way. "I'm interested in AR and VR spaces as NFTs [because] they have a practical value," said Dale, adding that "the hype around NFTs" made them a bit "myopic."
While NFTs may not be the end-all, be-all for VR world builders and other creative economies, they could be part of an important shift that allows creators to have access to new kinds of economic tools.
"The shiny thing that NFTs are at the moment, is not the end goal of this whole decentralized finance – where standard banks have proper competition for once," Deacon explained.
Now that the Hype is Over, True Innovation Continues
Beyond virtual reality, non-fungible tokens are also finding new use cases in the music world. Others
"We have only seen the tiniest part of where this is going," said Geoff Osler, CEO and co-founder of NFT app S!NG, to CNBC. "Cryptocurrency is here to stay — and NFTs mean there is now something to buy. It's the other side of the equation. And this is going to go a long way past digital art. We think music is next."
Other use cases for non-fungible tokens have been identified in identity, travel, live entertainment, medicine, supply chain, and many more industry verticals. Still, quite a lot of innovation will likely need to take place before the technology can take hold in any industry in a meaningful way.
Now that the NFT hype seems to be over, companies and innovators that have been working to improve non-fungible token technology will continue to build for the future. Watch this space.
Coinsmart. Beste Bitcoin-Börse in Europa
Source: https://www.financemagnates.com/cryptocurrency/news/the-end-of-nfts-nft-sale-transaction-volume-down-95-since-early-may/