Ethereum has undergone a remarkable rally over the past seven days.
Per CryptoSlate market data, the cryptocurrency has gained 65 percent in the past seven days and over 100 percent in the past month.
The cryptocurrency's price action has begun to outpace that of Bitcoin.
According to macro investor Raoul Pal, who is the current CEO of Real Vision and a former Goldman Sachs' head of hedge fund sales business in Europe, Ethereum is likely to grow even faster in the months ahead. Pal believes that the cryptocurrency is on a similar track to the track Bitcoin was on in 2016 and 2017.
Ethereum is on a similar track to Bitcoin
With Ethereum starting to outpace Bitcoin in this latest leg higher, analysts have begun to ask if there is any credence to the thought process that ETH will outperform BTC in this market cycle.
According to Raoul Pal, this is likely to happen.
He recently shared the chart below, published to his firm Global Macro Investor, which shows that structurally speaking, Ethereum is likely following the overall trajectory Bitcoin took from 2013 to 2019.
This fractal analysis predicts that in the coming market cycle, Ethereum is likely to gain 2,000 percent, which would give it a price of $20,000. As Pal explained:
"Ooops… ETH looks just like BTC – Metcalfe's Law seems to be the key to price for both ETH And BTC… Yeah, ETH might well go to $20,000 this cycle… (exact same as BTC last cycle, by market cap ETH will be bigger)"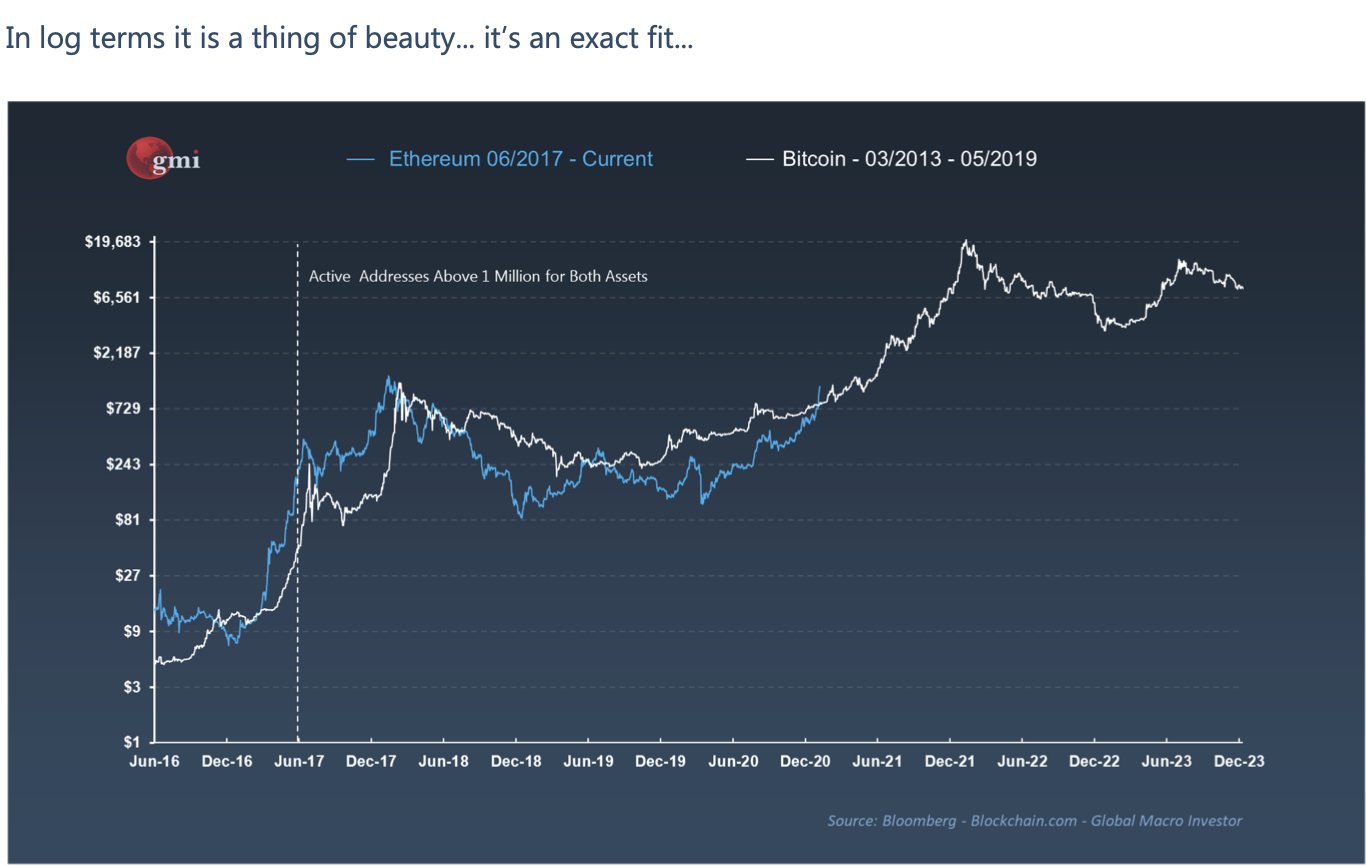 At a price of $20,000 per coin, Ethereum's market capitalization would likely surmount that of Bitcoin, assuming BTC only grows by 300-400 percent in this market cycle.
Does this have any credence?
While this prediction alone was based on pure statistics and charts, Pal has noted that there is a fundamental reason to believe that Ethereum will outpace Bitcoin in this market cycle.
As reported by CryptoSlate previously, he explained that while Bitcoin may be the base money or store of value in a future world of fintech, Ethereum is the layer at which transactions settle and where applications are built:
"My hunch is BTC is a perfect collateral layer but ETH might be bigger in market cap terms in 10 years for the reasons above. Money and collateral is just the base layer. Everything builds on top. The store of value is collateral, the trust layer and exchange of value is bigger."
To translate this into terms from real life, there is estimated to be $19 trillion worth of M2 money in the U.S. today. While this may sound like a lot, there are currently quadrillions of dollars worth of derivatives built on top of this capital base.
Pal thinks that this fact alone could give Ethereum a higher market capitalization than Bitcoin in the years ahead.
Like what you see?
Subscribe for daily updates.
Source: https://cryptoslate.com/macro-investor-says-ethereum-price-growth-looks-similar-to-bitcoin-in-2016-2017/
Why This Bull Market Is Different

This isn't the first crypto bull run. This is the fourth market cycle since the Bitcoin Genesis Block in January 2009; each preceding one, without fail, has led to unprecedented growth and development in terms of market capitalization, infrastructure, and most importantly of all, new participants.
In that sense, this bull cycle is no different from the last. The rush of new investors has led prices to hit new all-time highs that seemed utter fantasy months ago. In 2017, the parabolic price action that attracted so much media attention was fueled by retail traders and crypto-focused funds. The real big fish – the blue-chips and the billion-dollar hedge funds – sat on the sidelines, unsure over whether bitcoin really could be an investable asset.
Fast forward to today and those same big fish are the ones now ploughing billions of dollars into the crypto market. Investors like Stanley Druckenmiller, Paul Tudor Jones and Christopher Wood have added bitcoin to their portfolios. Square, MicroStrategy and MassMutual have each allocated millions into bitcoin while CME group will soon introduce ETH futures built on CF Benchmarks crypto indices. PayPal has made bitcoin available to their hundreds of millions of users worldwide; BlackRock, Citibank and JP Morgan, institutions with trillions of dollars on their balance sheets, have expressed interest in doing the same.
What's most fascinating about this run is how Kraken volumes have reached new all-time highs but, according to Google Analytics, public interest in bitcoin is nearly half of what it was at the previous high. To this point, it appears this run is mostly being driven by institutions and that individual investors are playing catch up.
"This time is different" is a market cliche proven wrong on countless occasions. But following 2020, a year of pandemics, unprecedented monetary policy and fiscal stimulus, this time really is different.
With its fixed supply, many believe bitcoin is digital gold. An allocation into bitcoin can protect the value of households and businesses' hard-earned savings, as well as a hedge against the possibility of out of control inflation. Since March 2020, nearly 4 trillion U.S. dollars have entered circulation, increasing total money supply by more than 20%.
Thanks to the hard work entities such as Kraken have devoted to educating investors, more people than ever are now using cryptocurrencies to help navigate through these trying and unpredictable times. Access has improved remarkably, compared to three years ago. Kraken's new retail app — available in over 100 European countries and launching soon in the U.S. — provides anyone with the ability to buy cryptocurrency in just a few clicks from their phones.
The stage is set for cryptocurrencies to become an investable asset complete with a valid value proposition underpinning it. This is the time to invest in your future. Whether it is diversification of assets, holding custody over your money or hedging against uncertainty, the time is now.
Source: https://blog.kraken.com/post/7470/this-bull-market-is-different/
Blockchain Game Alliance Will Host NFT Open Forum to Boost Adoption
The Blockchain Game Alliance was formed by a group of companies looking to boost the adoption of blockchain technology in the gaming industry, and it is sponsored by companies like Ubisoft, AMD, ARK.io, Maker, and Algorand.
The organization will be running an online open forum discussion on January 15th about the status of the NTF space and its future in 2021.
The gamification of cryptocurrency investment strategies like yield farming represented a step forward for NFT's, which promise to be a big player in the crypto ecosystem in 2021.
The Blockchain Game Alliance is Discussing the Latest Trends
The alliance believes that NFTs will play an important role in the game industry in the future and has invited 4 experts to talk about it by using a central question: "Which applications will generate interest and bring innovation in 2021?".
The guest speakers will be Twobadour Paanar, Joël Hubert, Patrick Barile, Patrick Barile, Patrick Barile, and Alex Gausman, all of them with deep knowledge of the blockchain ecosystem.
Those interested in participating in the open forum will b able to do so via the Livestream on Friday 15th at 4 pm CET on the Alliance's YouTube channel.
Gaming as the Gate to Blockchain's Mass Adoption
One of the most important requirements for the mass adoption of any new technology is users not realizing they are using it while benefiting from everything it has to offer.
This level of integration and ease of use is what has made technologies like the internet, streaming, telecommunications, and computing such an essential part of daily life.
Videogame trends like the growing F2P business model incentive users to acquire in-game assets such as skins, weapons, loot boxes, characters, etc, by playing the game to earn them or by buying them.
However, these assets are limited to the developer's ecosystem and can be taken from the player or modified at any time, making them feel more like borrowed assets.
This has made Non-Fungible Tokens (NFTs) one of the most popular applications of blockchain technology in the gaming industry, for games entirely built using blockchain and platforms looking to create gaming ecosystems alike.
NFTs are Becoming More Popular
The use of NFTs brings clear advantages for players not only by providing them with ownership over their assets but by allowing developers to create more complex universes in which games can interact with each other.
Most importantly, this happens without the player having to know what an NFT or blockchain is or is required to jump through hoops.
The reason why the gaming industry has such a potential to drive blockchain and crypto mass adoption over other industries is its sheer size, being bigger than all other entertainment industries combined, and the tech-savvy nature of most of its users.
2020: A Great Year for NFTs and Crypto
2020 will be a year to remember for decades to come as a year full of events that affected people on a global scale.
It will also be a year for crypto and blockchain enthusiasts to remember due to the bull run that took place by the end of the year, the Decentralized Finance (DeFi) and NFT boom, and innovation in multiple niches.
In the words of Ilya Abugov, DappRadar's project manager: "There is more hype around NFTs right now. To some extent, it's an extension of the DeFi excitement."
Projects like MEME and Aavegotchi showed the world the potential of NFTs to do more than just work as collectibles by merging them with DeFi yield farming, while markets like Rarible and Opensea attracted thousands of users and investors around the world.
4
Source: https://blockonomi.com/blockchain-game-alliance-will-host-nft-open-forum-to-boost-adoption/
Grayscale dissolves XRP Trust as Ripple continues to face legal troubles.
Sequel to its removal of XRP from its diversified public crypto fund, Grayscale Investments has announced its XRP Trust's dissolution. The move is another fallout from the current enforcement action instituted by the U.S. Securities and Exchange Commission (SEC) against the blockchain firm Ripple. According to the official announcement, the move is in line with the current SEC lawsuit against Ripple, which among other things, classifies the fourth-ranked cryptocurrency as a security token.
Grayscale dissolves XRP Trust.
Grayscale announced the decision to dissolve its XRP Trust product in a press release issued on Wednesday, saying, "In response to the SEC's action, certain significant market participants have announced measures, including the delisting of XRP from major digital asset trading platforms, resulting in the Sponsor's conclusion that it is likely to be increasingly difficult for U.S. investors, including the Trust, to convert XRP into U.S. dollars, and therefore continue the Trust's operations." The firm revealed that it has liquidated the XRP Trust and plans to distribute the XRP Trust product shareholders' funds as part of the dissolution process.
Ripple continues to face legal trouble.
As reported earlier, Bakkt, one of the biggest cryptocurrency companies in the United States, will not support the cryptocurrency XRP as part of its further product development, according to the CEO. The US SEC filed the lawsuit against Ripple for allegedly selling unregistered security XRP. Since the lawsuit, XRP has plunged significantly as US-based crypto exchanges, including Coinbase, delisted the cryptocurrency from their platforms. Crypto exchanges with a more international presence have elected to discontinue trading of the token for U.S. customers. Ripple CEO had earlier said that they are planning to fight the lawsuit, and the company is adamant that XRP is, in fact, not security.
Source: https://coinnounce.com/grayscale-dissolves-xrp-trust-as-ripple-continues-to-face-legal-troubles/