Here's Why the Bitcoin Price Could Soon Retest $11,000
Over the past few hours, Bitcoin has undergone a strong bounce from its local lows at $9,800, trading at $10,300 as of this article's writing. This $500 bounce marks a positive trend for an asset that has shed 20% in the span of four days. Fortunately for bulls, a number of technical analyses indicate that […]
Over the past few hours, Bitcoin has undergone a strong bounce from its local lows at $9,800, trading at $10,300 as of this article's writing. This $500 bounce marks a positive trend for an asset that has shed 20% in the span of four days.
Fortunately for bulls, a number of technical analyses indicate that Bitcoin has room to rally. This can be corroborated by the state of BTC futures markets, most of which are printing negative funding rates in a sign that bears are overconfident.
Bitcoin Primed to Bounce to $11,000: Here's Why
Bitcoin is primed to bounce as signs of a short squeeze have built. One trader shared the chart below on Saturday. Referencing the chart, he suggested that Bitcoin was primed to retest $10,000 after falling as low as $9,800 during the brunt of the selloff:
"Some alerts went off so checking back in. This makes sense IF this area holds. Some squeeze signs building. That will get you the 50 MA retest and lines up with fibs and s/r. 11k's first before lower in my view. This would also be in line with the weekly fractal."
He proceeded to note that this bounce would be in line with another analysis of his that suggests Bitcoin will follow the path of the March correction.
Chart of BTC's price action over the past few weeks with analysis by crypto trader CryptoISO (@Crypto_ISO on Twitter). Chart from TradingView.com
Not the Only Analysis Suggesting So
The analysis shared above is far from the only one suggesting Bitcoin is primed to bounce after a $2,000 correction.
Raoul Pal, the CEO of Real Vision and a Wall Street veteran, shared the chart below on September 3rd with the following message:
"In the post-Halving bull cycles, bitcoin can often correct 25% (even 40% + in 2017), throwing off the short-term traders (or giving swing traders a shot at the short side). Each of those was a buying opportunity. DCA opportunity ahead?"
Also optimistic is another technical analyst, who noted that the way in which Bitcoin's weekly formation is currently set up suggests a further recovery is to be expected:
"$BTC funding and premium index reached the lowest it had been since March 19th yesterday… Except this time we're retesting a multi-year S/R level with a confirmed bullish break in MS all the way up to the monthly chart…"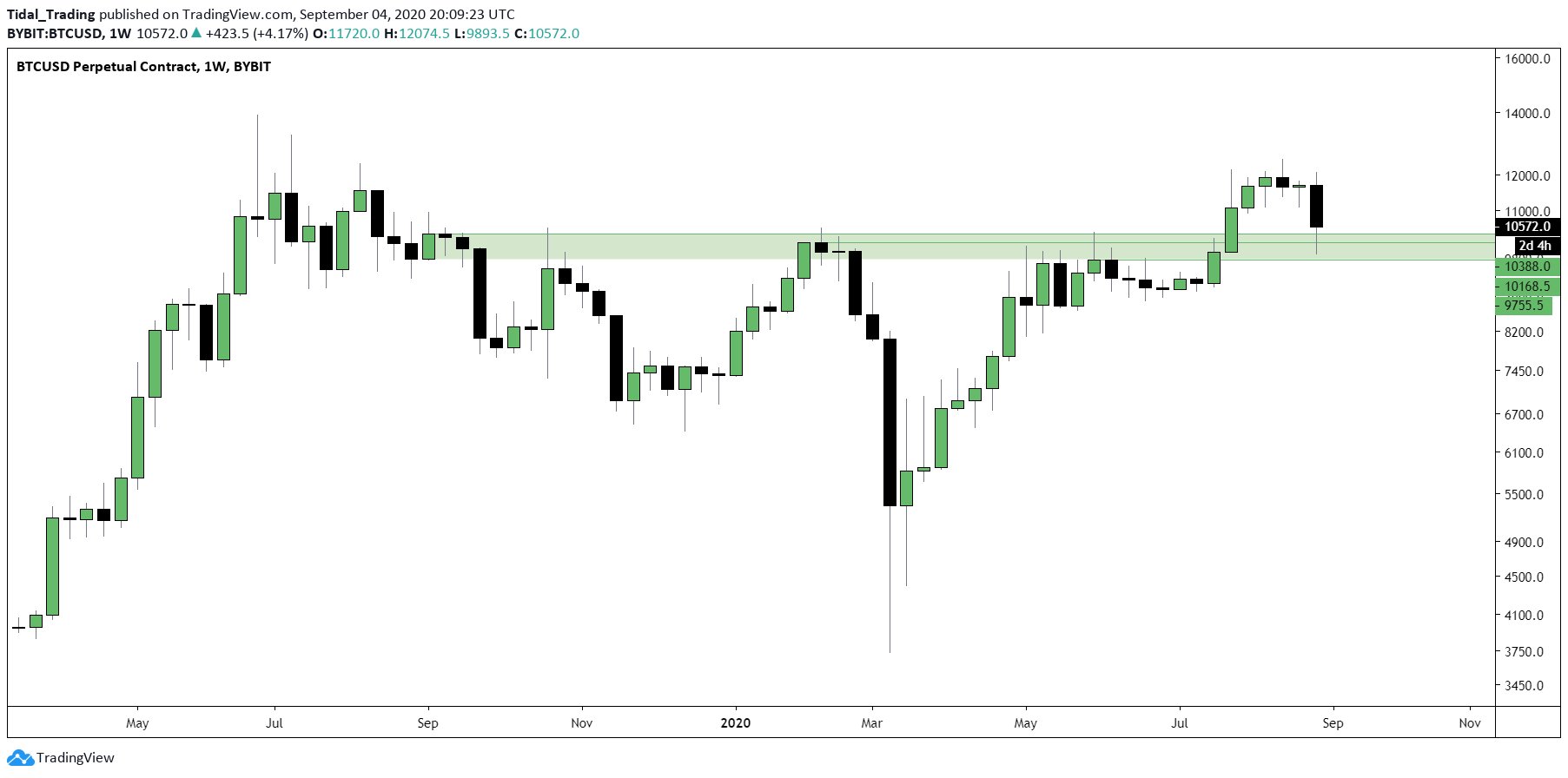 Chart of BTC's macro price action with analysis by crypto trader HornHairs (@CryptoHornHairs on Twitter). Chart from TradingView.com
Analysts say Bitcoin will soon bounce. What comes after that, though, is currently anyone's guess.
Featured Image from Shutterstock
Price tags: xbtusd, btcusd, btcusdt
Charts from TradingView.com
Here's Why the Bitcoin Price Could Soon Retest $11,000
Source: https://www.newsbtc.com/2020/09/06/heres-why-the-bitcoin-price-could-soon-retest-11000/?utm_source=rss&utm_medium=rss&utm_campaign=heres-why-the-bitcoin-price-could-soon-retest-11000
Smart contract exploits are more ethical than hacking… or not?
There has been a lot of talk about the recent "hacks" in the decentralized finance realm, particularly in the cases of Harvest FInance and Pickle Finance. That talk is more than necessary, considering hackers stole more than $100 million from DeFi projects in 2020, accounting for 50% of all hacks this year, according to a CipherTrace report.
Related: Roundup of crypto hacks, exploits and heists in 2020
Some point out that the occurrences were merely exploits that shined a light on the vulnerabilities of the respective smart contracts. The thieves didn't really break into anything, they just happened to casually walk through the unlocked back door. By this logic, since the hackers exploited flaws without actually hacking in the traditional sense, the act of exploiting is ethically more justifiable.
But is it?
The differences between an exploit and a hack
Security vulnerabilities are the root of exploits. A security vulnerability is a weakness that an adversary could take advantage of to compromise the confidentiality, availability or integrity of a resource.
An exploit is the specially crafted code that adversaries use to take advantage of a certain vulnerability, and to compromise a resource.
Even mentioning the word "hack" in reference to blockchain might baffle an industry outsider less familiar with the technology, as security is one of the centerpieces of distributed ledger technology's mainstream appeal. It's true, blockchain is an inherently secure medium of exchanging information, but nothing is totally unhackable. There are certain situations in which hackers can gain unauthorized access to blockchains. These scenarios include:
51% attacks: Such hacks occur when one or more hackers gain control of over half of the computing power. It's a very difficult feat for a hacker to achieve, but it does happen. Most recently in August 2020, Ethereum Classic (ETC) faced three successful 51% attacks in the span of a month.
Creation errors: These occur when security glitches or errors go overlooked during the creation of the smart contract. These scenarios present loopholes in the most potent sense of the term.
Insufficient security: When hacks are done through gaining undue access to a blockchain with weak security practices, is it really as bad if the door was left wide open?
Are exploits more ethically justifiable than hacks?
Many would argue that doing anything without consent cannot possibly be considered ethical, even if worse acts could have been committed. That logic also raises the question of whether an exploit is 100% illegal. For example, having a U.S. company registered in the Virgin Islands can also be seen as performing a legal tax "exploit," though it isn't considered outwardly illegal. As such, there are certain gray areas and loopholes in the system that people can use for their own benefit, and an exploit can also be seen as a loophole in the system.
Then there are cases such as cryptojacking, which is a form of cyberattack where a hacker hijacks a target's processing power to mine cryptocurrency on the hacker's behalf. Cryptojacking can be malicious or nonmalicious.
It may be safest to say that exploits are far from ethical. They are also entirely avoidable. In the early stages of the smart contract creation process, it's important to follow the strictest standards and best practices of blockchain development. These standards are set to prevent vulnerabilities, and ignoring them can lead to unexpected effects.
It is also vital for teams to have intensive testing on a testnet. Smart contract audits can also be an effective way to detect vulnerabilities, though there are many audit companies that issue audits for little money. The best approach would be for companies to get several audits from different companies.
The views, thoughts and opinions expressed here are the author's alone and do not necessarily reflect or represent the views and opinions of Cointelegraph.
Pawel Stopczynski is the researcher and R&D director at Vaiot. He was previously the R&D director and a co-founder at Veriori and at UseCrypt. Since 2004, Pawel has been involved in the development of 18 IT projects in Poland and the United Kingdom, focusing on the private sector. He was a speaker at several IT conferences, and the organizer of two TEDx conferences. For his work, Pawel was awarded a gold medal at the Concours Lépine International Innovation Fair 2019 in Paris, and a gold medal of the French minister of defense.
Coinsmart. Beste Bitcoin-Börse in Europa
Source: https://cointelegraph.com/news/smart-contract-exploits-are-more-ethical-than-hacking-or-not
Close to $10 Billion Worth of Crypto Longs Wiped off the Market Amid Sudden Crash
It's been a rough Sunday for the cryptocurrency market.
$7.8 Billion Liquidated in an Hour
The "up only" sentiment in the digital asset market took a major hit today as more than $7 billion in crypto long positions were liquidated within an hour in a sudden market wide crash.
According to data from bybt, more than $9 billion worth of crypto long positions were liquidated in the past 12 hours while more than $8 billion were wiped off the market in the last 4 hours.
Specifically, bitcoin's price started trending downwards early Saturday but the sharp free fall commenced around 3:00 UTC on Sunday.
After recording new ATH day after day, bitcoin and other cryptocurrencies' price witnessed a steep downfall today almost touching the $50,000 mark. At the time of writing, bitcoin has regained some support and trades at $55,300.
According to crypto analyst Lark Davis, bitcoin breached the 50-day moving average during the unanticipated crash which is a rare event during a bull run. For context, BTC breached the 50 day MA only a few times during the 2017 bull market. In retrospect, all such dips proved to be immensely profitable buy opportunities.
Overleveraged Longs get REKT
While it typically pays to long in a bull market, investors must be cautious of too much optimism and avoid being long in an already overbought market to not get rekt in sudden market crashes like that of today.
Being long in a market with less liquidity is particularly dangerous as the order books are thin and a sudden dump can cause the price of the underlying asset to go down much more than in other liquid markets.
The Block's Larry Cermak noticed this on Perp Protocol where the price of ether (ETH) reached as low as $900 due to low liquidity.
Crypto derivatives exchange FTX's CEO Sam Bankman-Fried share some interesting facts about the exchange during today's crash.
According to SBF, the exchange witnessed trading volume close to $26 billion which was another all-time record volume day for FTX. At the same time, FTX had close to $250 million of liquidations today.
Like BTCMANAGER? Send us a tip!
Our Bitcoin Address: 3AbQrAyRsdM5NX5BQh8qWYePEpGjCYLCy4
Coinsmart. Beste Bitcoin-Börse in Europa
Source: https://btcmanager.com/10-billion-crypto-longs-market-sudden-crash/
Kraken Daily Market Report for April 17 2021
Overview
---
Total spot trading volume at $2.51 billion, 57% above the 30-day average of $1.6 billion.
Total futures notional at $667.9 million.
The top five traded coins were, respectively, Bitcoin, Dogecoin, Ethereum, Tether, and Siacoin.
Strong returns from Nano (+51%) and Siacoin (+20%).
---
April 17, 2021
$2.51B traded across all markets today
Crypto, EUR, USD, JPY, CAD, GBP, CHF, AUD

XBT


$61000.
↓0.8%
$629.7M

XDG


$0.2633
↓27%
$605.2M

ETH


$2402.7
↓1.3%
$258.5M

USDT


$1.0005
↓0.07%
$240.2M

SC


$0.0521
↑20%
$159.8M

XRP


$1.5902
↑2.7%
$117.6M

DOT


$45.626
↑10.0%
$102.4M

LTC


$308.22
↓0.8%
$97.2M

BCH


$1090.7
↓2.2%
$79.1M

ADA


$1.3814
↓2.3%
$52.2M

NANO


$8.5722
↑51%
$46.2M

TRX


$0.1617
↓0.03%
$41.1M

LINK


$41.377
↓1.8%
$32.2M

ETC


$41.413
↑6.9%
$29.7M

MANA


$1.3461
↑2.4%
$29.2M

USDC


$1.0000
↑0.0%
$27.3M

ALGO


$1.5304
↑1.3%
$25.8M

XMR


$350.49
↑2.7%
$19.4M

EOS


$8.0465
↓6.2%
$16.1M

XLM


$0.6043
↓0.9%
$15.5M

ZEC


$275.80
↑1.8%
$12.6M

FIL


$180.09
↓1.6%
$12.4M

DASH


$371.48
↓2.4%
$11.5M

XTZ


$7.2400
↑0.17%
$11.2M

KSM


$464.33
↑3.7%
$11.2M

ATOM


$26.097
↑2.0%
$9.9M

STORJ


$2.3968
↑2.0%
$7.46M

ICX


$2.8503
↑9.1%
$7.09M

UNI


$36.055
↓0.5%
$5.28M

DAI


$1.0004
↑0.06%
$4.46M

OMG


$9.7769
↓3.9%
$4.33M

CRV


$3.9120
↓0.5%
$4.3M

GRT


$2.0052
↑0.4%
$3.71M

QTUM


$17.893
↓2.7%
$3.68M

AAVE


$434.98
↓1.6%
$3.67M

FLOW


$35.971
↓1.6%
$3.14M

SNX


$20.920
↓0.4%
$3.04M

BAT


$1.5007
↓1.8%
$2.96M

EWT


$20.354
↓1.1%
$2.92M

YFI


$51356.
↓3.8%
$2.91M

OXT


$0.8106
↓4.1%
$2.82M

KEEP


$0.7062
↓2.2%
$2.7M

KAVA


$6.5367
↓0.8%
$2.6M

OCEAN


$1.6954
↓0.12%
$2.22M

COMP


$563.50
↓0.6%
$2.07M

ANT


$10.460
↑1.4%
$1.96M

LSK


$6.6796
↓4.2%
$1.63M

WAVES


$15.901
↓4.2%
$1.43M

REPV2


$51.524
↓2.8%
$1.38M

REP


$51.440
↓2.7%
$1.07M

KNC


$3.4441
↓4.0%
$887K

MLN


$94.057
↑4.3%
$827K

GNO


$190.20
↓0.5%
$787K

BAL


$63.429
↓0.8%
$694K

PAXG


$1795.7
↑0.17%
$593K

TBTC


$62632.
↑0.0%
$50.8K


#####################. Trading Volume by Asset. ##########################################

Trading Volume by Asset
---
The figures below break down the trading volume of the largest, mid-size, and smallest assets. Cryptos are in purple, fiats are in blue. For each asset, the chart contains the daily trading volume in USD, and the percentage of the total trading volume. The percentages for fiats and cryptos are treated separately, so that they both add up to 100%.
Figure 1: Largest trading assets: trading volume (measured in USD) and its percentage of the total trading volume (April 17 2021)




Figure 2: Mid-size trading assets: (measured in USD) (April 17 2021)




Figure 3: Smallest trading assets: (measured in USD) (April 17 2021)



#####################. Spread %. ##########################################

Spread %
---
Spread percentage is the width of the bid/ask spread divided by the bid/ask midpoint. The values are generated by taking the median spread percentage over each minute, then the average of the medians over the day.
Figure 4: Average spread % by pair (April 17 2021)




.

#########. Returns and Volume ############################################

Returns and Volume
---
Figure 5: Returns of the four highest volume pairs (April 17 2021)


Figure 6: Volume of the major currencies and an average line that fits the data to a sinusoidal curve to show the daily volume highs and lows (April 17 2021)



###########. Daily Returns. #################################################

Daily Returns %
---
Figure 7: Returns over USD and XBT. Relative volume and return size is indicated by the size of the font. (April 17 2021)



###########. Disclaimer #################################################

The values generated in this report are from public market data distributed from Kraken WebSockets api. The total volumes and returns are calculated over the reporting day using UTC time.
Coinsmart. Beste Bitcoin-Börse in Europa
Source: https://blog.kraken.com/post/8684/kraken-daily-market-report-for-april-17-2021/