Here's Why Ethereum Is Primed to Hit $290 After 12% Bounce
Ethereum has bounced after a punishing drop over the past two days. After falling as low as $290 on Saturday, the leading cryptocurrency has recently bounced as high as $355-360. This marks a 12-14% move from the local lows, which is actually an outperformance of Bitcoin. Some are optimistic that ETH runs back to $390, citing the technical supports it managed to hold above yesterday. Not everyone is convinced. A number of traders are still […]
Ethereum has bounced after a punishing drop over the past two days.
After falling as low as $290 on Saturday, the leading cryptocurrency has recently bounced as high as $355-360.
This marks a 12-14% move from the local lows, which is actually an outperformance of Bitcoin.
Some are optimistic that ETH runs back to $390, citing the technical supports it managed to hold above yesterday.
Not everyone is convinced. A number of traders are still convinced Ethereum hits $290 in the near future.
Ethereum dropping to $290 from current levels would entail another 18% move lower.
Ethereum Is Primed to Hit $290 in the Near Future: Analysts
A trader is convinced Ethereum hits $290 in the near future after it printed a clear rejection at the $360 resistance level.
He shared the chart below on Sunday morning, showing that the failure to surmount that level is likely setting the cryptocurrency up for a decline to $290, maybe even to $250.
For Ethereum to hit $290 from current levels, it will need to drop 12%. For ETH to hit $250 from current levels, it will need to drop 19%.
Chart of ETH's price action over the past few months with analysis by crypto trader Byzantine General (@Byzgeneral on Twitter). Chart from TradingView.com
The trader above isn't the first to have eyed the $290 level as a region ETH could near in the short term. One explained that $295 is a macro resistance level, making it likely that Ethereum could test it and bounce off it:
"Truth of the matter is that our region around $295 is the strongest level of support we have on weekly plus timeframes, this would be a major buying region… Personally I have added here at $350, this was my first buy fill in the past few months, next bid $320!"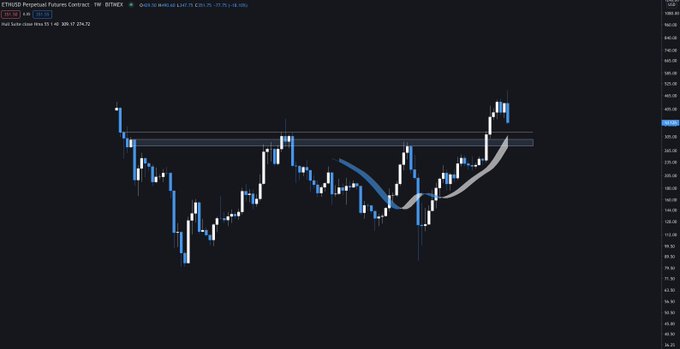 Chart of ETH's price action over the past year with analysis by crypto trader "CryptoCactus" (@thecryptocactus on Twitter). Chart from TradingView.com
Futures Suggest Relief Is Coming
Futures market trends suggest that relief is coming.
Over the past day, leading Ethereum futures markets on BitMEX, OKEx, and other exchanges have had their funding rates flip negative. The funding rate is the rate that long pays shorts to neutralize the price of the future to the price of the underlying cryptocurrency.
The negative funding rate seen yesterday indicated that sellers were so aggressive that the future was trading below the price of ETH.
Such negative funding rates are often seen before an asset undergoes a bounce. When shorts are paying longs, they are incentivized to close their positions.
Featured Image from Shutterstock
Price tags: xbtusd, btcusd, btcusdt
Charts from TradingView.com
Here's Why Bitcoin Is Primed to Hit $290 After 12% Bounce
Source: https://bitcoinist.com/heres-why-ethereum-is-primed-to-hit-290-after-12-bounce/?utm_source=rss&utm_medium=rss&utm_campaign=heres-why-ethereum-is-primed-to-hit-290-after-12-bounce
By The Numbers: The Rate Bitcoin Must Climb To Reach $100K By July
Bitcoin is a numbers game through and through. There are only 21 million BTC. The code and its consensus algorithm are both made up of complex math. The total coins are slashed in half every four years, and so on and so fourth.
Most important of all, here's the growth rate Bitcoin price must hit steadily to reach $100K per BTC by July 2021 according to one crypto capital manager – as well as the one thing that could get in the way.
Bitcoin Price Growth Rate Should Take Crypto Valuation To $100K By July
Bitcoin's growth from virtually worthless to more than $60,000 per » Read more
" href="https://www.newsbtc.com/dictionary/coin/" data-wpel-link="internal">coin today is nothing short of incredible. Even beyond ROI that is simply incomparable, the story of how the » Read more
" href="https://www.newsbtc.com/dictionary/coin/" data-wpel-link="internal">coin came to be reads as if it was ripped from a sci-fi film: Mysterious person takes a shot at all money, and takes no credit for the monumental effort.
Related Reading | Crypto Analyst Expects "Escape Velocity" When Bitcoin Breaks $60K. Here's Why
" href="https://www.newsbtc.com/dictionary/satoshi/" data-wpel-link="internal">Satoshi's creation is now more than a decade old and has grown far beyond most people's expectations. Over the last year alone, the leading cryptocurrency by market cap has grown at a daily average rate of 0.65% since April, resulting in a nearly a ten times climb in value.
At the current pace, according to crypto capital manager Timothy Peterson, Bitcoin price would reach $100K by June 30th.
At only a daily growth rate of 0.64% the top crypto should hit $100K by July | Source: BTCUSD on TradingView.com
The One Factor That Could Cause BTC To Fall Short Of Target
Bitcoin price must maintain comparable momentum over the last year to keep climbing at a similar rate and reach more than $100K per » Read more
" href="https://www.newsbtc.com/dictionary/coin/" data-wpel-link="internal">coin. The number is now closer to the current price action than $10K is, and thus potentially more achievable.
Related Reading | Mathematical Mystery: Why Did The Bitcoin Rally Stop At The Golden Ratio?
Price predictions for the next cycle top reach as much as $400K, with estimates more steeped in reality ranging from $125,000 to $325,000 per BTC.
The rally could really be over if the historically accurate signal is right again  | Source: BTCUSD on TradingView.com
There's a chance, however, the cycle top is in, according to the Pi Cycle Top Indicator. If the historically accurate tool is right yet again, the leading cryptocurrency's daily growth rate will begin to decline from here on out until another bull market breaks out.
Bitcoin price wouldn't make it to $100K by July, and a return to prices much lower would follow. If that's the case, crypto investors would have to wait a while longer for the number one cryptocurrency by market cap to reach that ultimate target.
Featured image from Deposit Photos, Charts from TradingView.com
Coinsmart. Beste Bitcoin-Börse in Europa
Source: https://www.newsbtc.com/analysis/btc/rate-bitcoin-100k-by-july/
Bitcoin's time has come: TIME magazine to hold BTC on balance sheet
Institutional fund manager Grayscale has partnered with acclaimed New York-based magazine TIME to produce an educational video series on the subject of crypto assets.
The partnership was announced on April by Grayscale's CEO, Michael Sonnenshein, with Sonnenshein revealing that TIME and its president, Keith Grossman, will receive payment in Bitcoin.
Further, TIME does not intend to convert the Bitcoin it receives through the deal into fiat, and will hold the crypto asset on its balance sheet. No further details of the partnership have been revealed so far.
Thrilled @Grayscale is partnering w/ @TIME on a new video series coming this summer explaining the #crypto space.

Equally as important, @KeithGrossman & @TIME has agreed to be paid in #Bitcoin – and will hold the $BTC on their balance sheet. A first for our media partnerships!

— Michael Sonnenshein (@Sonnenshein) April 12, 2021
TIME was first published on March 3, 1923, with the magazine and online publication having been active in the crypto space of late. In March, TIME cashed in on the NFT mania by dropping a set of tokenized magazine covers on NFT marketplace SuperRare, with the "TIME Space Exploration – January 19th, 1959" NFT fetching 135 ETH worth almost $250,000 on March 30.
The company also revealed they were seeking a crypto-friendly Chief Financial Officer in the same month after listing the position on Linkedin.
"The media industry is undergoing a rapid evolution. TIME is seeking a Chief Financial Officer who can help guide its transformation," the listing said.
According to Bitcointreasuries.com, TIME will become the 33rd publicly traded company to hold Bitcoin on its balance sheet. TIME joins the ranks of top U.S. companies Microstrategy — who have invested billions into BTC from August 2020, Square — who added 4,709 BTC to their treasury in October, and Tesla — which purchased $1.5 billion worth of BTC in January. Multinational investment corporation Blackrock also began dabbling in crypto during February, profiting more than $360,000 from a small long using Bitcoin futures.
This deal marks a significant partnership between giants of the mainstream and crypto worlds. Grayscale was founded in 2013 and has $46 billion worth of crypto assets under management, including roughly 3% of Bitcoin's total circulating supply.
Coinsmart. Beste Bitcoin-Börse in Europa
Source: https://cointelegraph.com/news/bitcoin-s-time-has-come-time-magazine-to-hold-btc-on-balance-sheet
Moonstake integrates with Sylo to bring their staking protocol to the Sylo Smart Wallet
Moonstake, a staking pool protocol and service provider, has announced a new partnership with Sylo, a decentralized software development firm and the creators of the Sylo Network and Sylo Smart Wallet.
Through this collaboration, Moonstake will connect Sylo with their robust API/SDK solution, thereby enabling staking functionalities in the Sylo Smart Wallet and allowing Sylo users to earn passive income from their idle crypto assets.
Founded in 2010, Sylo is committed to decentralization and has created an ecosystem consisting of digital consumer wallet software, applications, infrastructure, and developer tools in order to usher in a decentralized future worth looking forward to.
A unique wallet app that combines digital asset management with decentralized communication, the Sylo Smart Wallet is a savvy decentralized e-wallet that enables users to purchase, store, track, send, and receive crypto assets, explore the world of Ethereum dApps by means of a Web3 Browser, pay with cryptocurrency in the real world, and provides secure communications by chat or audio/video call.
"We're pleased to offer our community of global users yet another way to access the benefits of crypto. As always, our user flow has been designed with simplicity in mind, and staking via Moonstake in the Sylo Smart Wallet will make earning from digital assets simple enough for people everywhere."
– Dorian Johannink, Co-Founder and Business Director of Sylo
Born over a year ago with the aim to create the largest staking network in Asia, since its inception Moonstake has developed highly user-friendly wallets for both Web and Mobile (iOS/Android) that are compatible with over 2000 cryptocurrencies.
After a full-scale operational launch in August 2020, Moonstake's total staking assets have grown rapidly to reach USD 800 million in staked assets over just six months. Within a year of its founding, Moonstake became ranked in the top 10 of the world's premier staking service providers and it continues to strongly expand its business.
"The Sylo Smart Wallet is an interesting e-wallet that combines the functionality of a flexible digital asset management tool and a secure instant messaging app. We are happy to help proper crypto projects like Sylo enable staking in their wallet so that users can have more ways to earn with crypto. With a wide selection of PoS coins and attractive yield rates from our high-quality staking pools, we are confident that users will be pleased with their staking experience on Sylo powered by Moonstake."
– Mitsuru Tezuka, Founder of Moonstake
Coinsmart. Beste Bitcoin-Börse in Europa
Source: https://www.cryptoninjas.net/2021/04/13/moonstake-integrates-with-sylo-to-bring-their-staking-protocol-to-the-sylo-smart-wallet/