Ethereum's Address Activity is Growing Again Following the Recent Panic Selloff

On-chain metrics provider Santiment has acknowledged that Ethereum is gaining momentum as address activity in this network is growing again. (Read More)
Ethereum (ETH) has been on a negative trajectory ever since the second-largest cryptocurrency dropped from the recent all-time high (ATH) of $4,350. ETH was trading at $2,661, according to CoinMarketCap.
Nevertheless, Santiment has acknowledged that Ethereum is gaining momentum as address activity in this network is growing again. The on-chain metrics provider explained:
"Ethereum's address activity is growing again, & the amount of active deposits that were prevalent during the major panic selloff last week has died down. The crowd sentiment is bearish, which is a good sign for the bulls."
The Ethereum network is also being boosted because the number of addresses holding more than 0.01 ETH reached a record-high of 15,741,620.
Ethereum options spiked in May
According to crypto data provider Documenting Ethereum:
"Monthly Trade Volume of Bitcoin & Ethereum options. Ethereum volume spiking in May."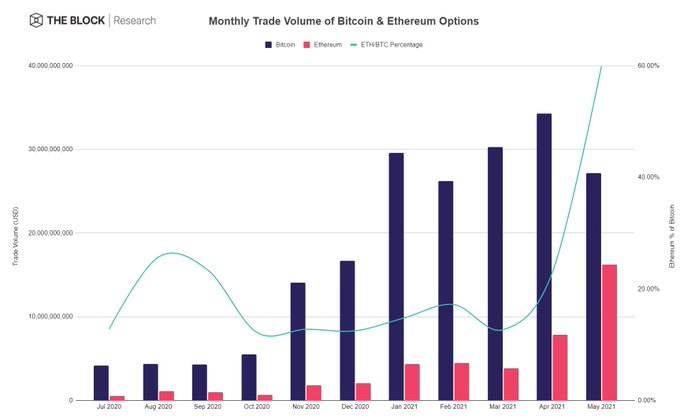 On the other hand, the mean fee paid on the ETH network hit a 4-month low of $6.73.
Ethereum has been grappling with the challenge of high gas fees, which at one time became unbearable for those general traders.
The launching of ETH 2.0 in December 2020 is expected to tackle this problem, given that it will transit the present proof-of-work (POW) consensus mechanism to a proof-of-stake (POS) platform. Furthermore, scalability and efficiency are to be boosted.
Meanwhile, the world's first Ether Exchange Traded Fund (ETF) by Purpose Investments surpassed 50,000 ETH on May 29.
The Ether ETF is a type of security that tracks the overall price of ETH. It enables investors to trade and purchase shares of it on traditional exchanges or circumventing crypto trading platforms.
Therefore, it was expected to offer investors a simple, affordable, and efficient way to attain direct exposure to ETH with the convenience of eligibility in any investment account.
Image source: Shutterstock Coinsmart. Beste Bitcoin-Börse in Europa
Source: https://Blockchain.News/analysis/ethereum-address-activity-is-growing-again-following-the-recent-panic-selloff
How Many Bitcoin U-Turns? Goldman Sachs Now Says Bitcoin Is Not a Viable Investment
The US multinational investment bank Goldman Sachs continues with its 180-turns on the cryptocurrency industry. After its recent interest that included filing for a Bitcoin ETF and exploring crypto as an asset class, the institutions' latest report said virtual currencies are not a "viable investment."
Crypto Is Not a Viable Investment: Goldman
It's safe to say that Goldman Sachs has displayed a controversial approach to the cryptocurrency space. The latest report coming from the Wall Street giant takes it back a notch by going to its hostile policy from previous years.
Titled "Digital Assets: Beauty Is Not in the Eye of the Beholder," it touched upon some of the most recent concerns, including high energy consumption required in the process of mining. This topic was raised in May by Tesla's Elon Musk, who criticized BTC for using too much coal fuel.
Despite numerous reports claiming otherwise, Tesla disabled bitcoin payments citing environmental issues.
The paper also touched upon cryptocurrencies' usage in ransomware attacks after numerous hacks transpired on US soil in recent months. After each, the perpetrators indeed requested the payments to be sent in bitcoin.
Furthermore, the document named impending regulations as the "biggest risk to the speculative aspects of this ecosystem." Keeping in mind all of these concerns, the bank concluded:
"After analyzing various valuation methodologies and applying our multi-factor strategic asset allocation model, we have concluded that cryptocurrencies are no a viable investment for our clients' diversified portfolios."
The Goldman Sachs Investment Strategy Group should sign off its research pieces on crypto with "Have Fun Staying Poor". pic.twitter.com/TiedRBxWhI

— Alex Krüger (@krugermacro) June 14, 2021
How Many U-Turns?
The mentioned-above word 'controversial' might not be strong enough to describe Goldman's ever-changing views on the industry.
The institution was among the first regulated entity to launch a crypto trading desk all the way back in 2017. Yet, that came amid the parabolic price increases, and when the year-long bear market followed, Goldman halted the initiative.
In the meantime, Goldman held a conference call in which it said bitcoin is not an asset class. Bank executives repeatedly questioned BTC's ability to serve as a reliable store of value and blasted its volatility.
Yet again, Goldman restarted the trading desk this year when, once again, prices were skyrocketing to new highs. It also filed for a Bitcoin ETF with the SEC, explored launching custody services, added BTC to its year-to-date returns report, participated in investment rounds in crypto projects, and enabled clients to trade bitcoin derivatives.
With all of that in mind, it's not such a surprise that Alex Kruger and other crypto community members viewed Goldman's latest U-turn as nothing out of the ordinary.
SPECIAL OFFER (Sponsored)
Binance Futures 50 USDT FREE Voucher: Use this link to register & get 10% off fees and 50 USDT when trading 500 USDT (limited offer).
PrimeXBT Special Offer: Use this link to register & enter POTATO50 code to get 50% free bonus on any deposit up to 1 BTC.
---
Coinsmart. Beste Bitcoin-Börse in Europa
Source: https://cryptopotato.com/how-many-bitcoin-u-turns-goldman-sachs-now-says-bitcoin-is-not-a-viable-investment/
The Difference Between a Cryptocurrency Broker and an Exchange
The post The Difference Between a Cryptocurrency Broker and an Exchange appeared first on Coinpedia – Fintech & Cryptocurreny News Media| Crypto Guide
There are two main ways of cryptocurrency trading: the use of a crypto exchange or the service of a cryptocurrency broker. Both methods have advantages and disadvantages. To make the right choice, it is necessary to explore the peculiarities of each of them and determine your own requirements and expectations from trading.   Although the cryptocurrency …
There are two main ways of cryptocurrency trading: the use of a crypto exchange or the service of a cryptocurrency broker. Both methods have advantages and disadvantages. To make the right choice, it is necessary to explore the peculiarities of each of them and determine your own requirements and expectations from trading.
Although the cryptocurrency market is not a novelty for the world, there are still a lot of traders, including both newbies and experienced ones, who do not understand the difference between a cryptocurrency broker and an exchange.
First, it is necessary to determine a significant difference in the very essence and purposes of both methods.
Thus, it should be mentioned that cryptocurrency exchanges are very similar to regular exchange platforms. So, this way of cryptocurrency trading would be simple for those traders who have already worked with the exchange market. All quality cryptocurrency exchanges, such as Emirex, offer users two methods of purchasing the digital currency: to buy a cryptocurrency for fiat and to exchange one currency for another (for example, BTC for ETH).
So, cryptocurrency exchanges function as intermediaries. They arrange the deal and charge a fee for the service.
Meanwhile, a cryptocurrency broker is an intermediary between investors and the market. When you cooperate with a broker, you deposit funds in an intermediary's account, and then, he/she decides what to do with your finances to bring you profits.
Therefore, if you choose the service of a broker, you do not need to study the cryptocurrency market on your own and follow all changes. Your cryptocurrency broker will propose the best deals for you.
There are several main characteristics that differentiate the service of a cryptocurrency exchange from the support of a broker:
Registration and identification system
Account replenishment and withdrawal
Registration and Identification System
The majority of exchanges provide quite a simple registration procedure. Traders just need to put in their email and create a password. Those platforms that work with fiat require a verification process as well. Exchanges ask for your picture with your ID, video call, pass KYC, etc.
Brokers offer easy registration as well, but almost all of them need you to pass an identification procedure. It is important for them because their activity is regulated by authorized bodies.
Account Replenishment and Withdrawal
A lot of exchanges do not accept fiat for cryptocurrency trading, and those that use it, usually, charge a large commission. The commission is necessary regardless of the payment method.
Meanwhile, brokers offer you more options for replenishment and withdrawal (credit and debit cards, bank account, payment systems, etc.), and, generally, commissions are not charged at all.
Trading Procedure
Exchanges are great platforms for small volume trading. Moreover, exchanges are often used by holders who are interested in long-term and medium-term deals.
Broker maintenance is appropriate for large volume trading. It is quite popular among speculative traders who prefer to get profits in a short time.
Security System
Of course, the risk of a hacker attack is present in both trading methods. However, a broker activity is more reliable today than an exchange service because brokers are regulated by authorities.
In case of hacking and theft of funds, traders who work with brokers can expect to be compensated.
Earnings
Exchanges engage traders with the diversity of digital currency pairs. However, such access to every proposition on the market requires traders to pay large commissions.
From their side, brokers provide lower commissions, but they trade large sums; so, in case of an unsuccessful deal, there is a risk of losing too much.
All in all, both methods are beneficial. It is just necessary to determine your individual interests on the cryptocurrency market.
Coinsmart. Beste Bitcoin-Börse in Europa
Source: https://coinpedia.org/guest-post/difference-between-cryptocurrency-broker-and-exchange/
Are Solana, KAVA, Maker, Polkadot good bets in this timeframe?
One of the market's top institutional investors, Grayscale, has updated its list of investments in cryptocurrencies, adding 13 new altcoins to its portfolio. From Solana [SOL] to Polygon [MATIC] and KAVA, Grayscale's new investments have introduced an inflow to several altcoins that have rallied since the beginning of 2021. Though their addition to Grayscale's portfolio has turned the market sentiment bullish, there are other factors driving their price rally too.
In the case of SOL, the rapidly growing ecosystem of projects makes traders bullish in the long term. SOL's price has risen as high as $38 while trade volume dropped by nearly 40% in 24 hours. A drop in trade volume could be interpreted as an accumulation and the beginning of a price rally.
To get started with DeFi and NFT ecosystems and projects, more traders are signing up for SOL and there has been a consistent increase in the number of active traders. Additionally, several oracle networks like Switchboard are bringing feeds to the Solana Mainnet. This has increased the popularity of Solana, making it mainstream and increasing the demand across exchanges.
Similarly, in the case of KAVA, MKR, and DOT, the social volume seems to be signaling an upcoming price rally. KAVA's top features make it rewarding for traders to accumulate since the network fees are optional and rewards are relatively high, with the same recently hitting an ATH too.
What's more, KAVA has emerged as one of the most rewarding DeFi projects since the beginning of 2021, with the same seeing a hike in trade volume and market capitalization. The said hike is also indicative of increasing demand across spot exchanges.
Grayscale is known for exploring new potential products and this may have driven them to consider the trending altcoins of 2021. However, considering these altcoins, in particular, signals the potential for relatively high short-term ROIs. Since the beginning of 2021, the market capitalization of these altcoins has increased consistently.
In the past week itself, the market capitalization has increased by over 20% for altcoins like DOT, MKR, and KAVA. MKR has emerged as a top volume gainer several times over the past two weeks and this makes it further lucrative for altcoin traders to buy MKR for relatively high short-term ROIs. MKR, KAVA, DOT, and SOL are likely to rally based on these metrics.
Coinsmart. Beste Bitcoin-Börse in Europa
Source: https://ambcrypto.com/are-solana-kava-maker-polkadot-good-bets-in-this-timeframe