Ethereum Addresses with at least 0.1 ETH Hit All-Time High as Amount Held on Exchanges Drops

Number of Ethereum addresses holding 0.1+ coins just reached an ATH of 3,716,113, according to on-chain data provider Glassnode. (Read More)
Pundits, investors, and traders are keeping a keen eye on Ethereum (ETH) as it continues to show budding potential. The second-largest cryptocurrency by market capitalization has been up by 15.54% in the past week and is currently trading at $1,218 at press time, according to CoinMarketCap. This price brings it a lot closer to its record-high of $1,400.
New data by Glassnode reveals that the number of crypto addresses holding more than 0.1 coins has broken a record. The on-chain data provider noted:
"Number of Ethereum addresses Holding 0.1+ coins just reached an ATH of 3,716,113."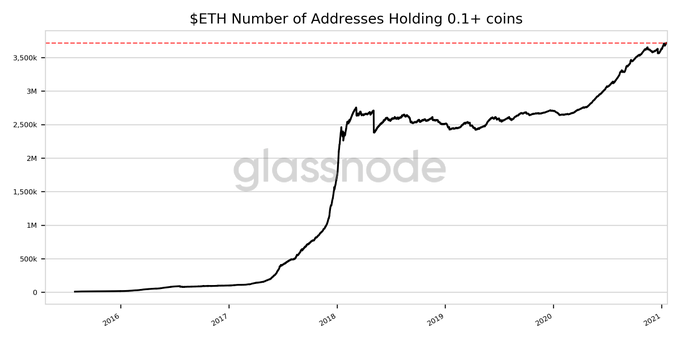 These statistics show that more participants are joining the Ethereum bandwagon as its fame continues to rise in the crypto space. The future looks bright for ETH based on notable developments in its network.
For instance, the launch of Ethereum 2.0 has gained considerable attention in the crypto sector, as Ethereum seeks to transit to a proof-of-stake consensus mechanism, where validation of block transactions is based on the number of ETH held and this approach is deemed more environmentally friendly than mining. Furthermore, a boom in the decentralized finance (DeFi) sector is the icing on the cake for Ethereum.
Ethereum in exchanges shrinks
Data by IntoTheBlock, a blockchain analytic firm, shows that Ethereum in exchanges is leaving in droves. For instance, 621,000 ETH recently exited exchanges, which cements the confidence of hodlers.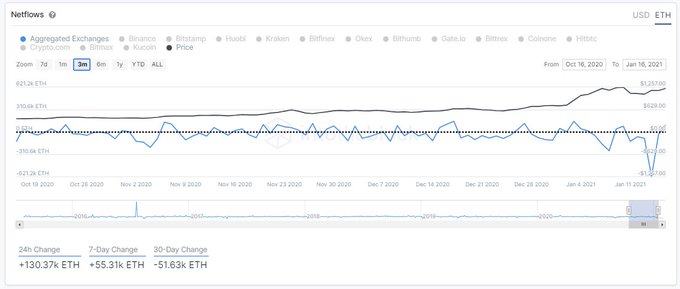 Notably, whenever coins leave crypto exchanges, they are stored in cold wallets for long-term purposes and this boils down to more faith on the part of whales and other hodlers. This trend may be in anticipation of the fact that Ethereum's price will go to the moon in the near future.
For instance, crypto analyst Michael van de Poppe recently revealed that ETH price might go ballistic in late 2021. His sentiments are echoed by veteran Wall Street trader Raoul Pal who stipulated that Ethereum's price might reach $20,000 in price, based on Metcalfe's Law.
Image source: Shutterstock Source: https://Blockchain.News/news/ethereum-addresses-with-least-0.1-eth-hit-all-time-high-amount-held-exchanges-drops
For Big Investors, the Recent Bitcoin Drop Presents More Buying Opportunities
Bitcoin has fallen deeply into a state of oblivion. Once trading for well over $64,000, the world's number one digital currency by market cap has lost nearly $20,000 in value since last month and is presently trading for just over $47,000.
Bitcoin Is Still Being Bought Up
Among many analysts is an attitude of gloom and doom. Some consider the end of bitcoin to be near, while other largescale investors – such as Michael Saylor of MicroStrategy fame – think that this is the perfect opportunity to add more bitcoin to their private and company stashes and buy up.
Saylor has recently come out and admitted that not long after Elon Musk announced his company would not be accepting BTC payments for goods and services, his company purchased another $15 million worth of the digital asset. The recent dip can likely be attributed to Musk's sudden dismissal of BTC payments, which a lot of people in the crypto space were relying on.
This was going to be a major push forward in the world of BTC. It would be seen as a legitimate and mainstream method of payment considering such a huge, billion-dollar company would allow its usage alongside fiat and credit cards.
Sadly, it does not look like this is going to pass, and bitcoin has suffered as a result, but for people like Saylor, the present conditions offer more opportunities to take advantage of. In a tweet, Saylor announced his company's recent purchase:
MicroStrategy has purchased an additional 271 bitcoins for $15 million in cash at an average price of about $55,387 per bitcoin.
Thus far, the company has accumulated nearly $2.5 billion in BTC over the past nine months according to a filing with the Securities and Exchange Commission (SEC). MicroStrategy was one of the first major institutions to pledge public support to bitcoin and initially began buying the asset in August of last year.
While Saylor looks at the recent situation as something positive for men like himself, others are expressing disdain with Elon Musk and the fact that he is constantly saying things that have large effects on bitcoin and its competing altcoin cousins.
Maybe It's Time to Think Before You Talk
Dennis Kelleher – CEO of Better Markets in Washington – explained to reporters:
The problem here is that a loose cannon CEO continues to shoot his mouth off about any number of potential market-moving events. It is clearly grossly irresponsible, but it may not be illegal.
For the most part, there is no evidence supporting the idea that Musk does what he does or says what he says on purpose. It could be that he just simply does not realize his power within the industry yet. However, perhaps it is time he takes a breather and really thinks about his next steps regarding crypto, as it clearly has an effect on the rest of us.
Tags: bitcoin, Elon Musk, Michael Saylor, MicroStrategy Coinsmart. Beste Bitcoin-Börse in Europa
Source: https://www.livebitcoinnews.com/for-big-investors-the-recent-bitcoin-drop-presents-more-buying-opportunities/
Litecoin Price Prediction: LTC/USD Goes Bearish on a Correctional Note
LTC Price Prediction – May 17
Currently, a downward correctional move is ongoing at a higher pressure in the LTC/USD market activities. The US currency forces its worth on the crypto since May 10 while the base instrument hit resistance around a high value of $400. With about a 10.07% reduction presently in the crypto market, price now trades at around the level of $266.
LTC/USD Market
Key Levels:
Resistance levels: $320, $360, $400
Support levels: $240, $220, $200
LTC/USD – Daily Chart
The LTC/USD daily chart showcases a heavy downward price correctional movement as most of the vital support trading levels breached to the downside. An intense bearish candlestick is being formed in the space between the SMAs. That has led to the breaking down of the bullish trend-line and the 14-day SMA trend-line to the south. The 50-day SMA indicator is being approached by current falling pressure at the immediate support value of $240. The Stochastic Oscillators are now in the oversold region slightly pointing to the south within it. That still calls for placing position with cautiousness as there may soon be a change of trend in no time.


Will the LTC/USD current fall-off reach for support of $240?
Going by the current pace at which the LTC/USD market operations as regards the downward correctional moves, it is most likely that bulls will await price to either closely average or briefly touch past the immediate support level of $240 before considering launching a pull-up. That said, a bullish candlestick formation is needed to back up a reliable return of an upward move at that trading zone.
On the account of contradiction, as regards the market's upside, bears would now have to consolidate their stance in the market to forcefully break down the $240 support level in a continuation southward pushes to see through some lower support trading lines. The smaller SMA indicator may not play along with the furtherance of downswing at the first instance of heightening pressure.


LTC/BTC Price Analysis
As of writing, the comparison trading capacity outlook between LTC and BTC as shown on the chart depicts that the counter instrument has only been able to hold back the base tool in a convergent trading cycle at higher zones. Yet, the trend is having it to favor of LTC as placed with BTC. The 14-day SMA trend-line and the bullish trend-line are over the 50-day SMA. And, they are all underneath the cryptos' trading point. The Stochastic Oscillators have slantingly moved into the oversold region with a brief-pointing posture to the south. That indicates that the possibility that the base instrument may soon begin a push further to the north.
Coinsmart. Beste Bitcoin-Börse in Europa
Source: https://insidebitcoins.com/news/litecoin-price-prediction-ltc-usd-goes-bearish-on-a-correctional-note
Iranian government to penalize crypto miners using household power
The Iranian government has now warned of hefty fines for those who will be caught mining cryptocurrencies using power intended for domestic use.
This after authorities registered a significant spike in electricity consumption for digital currency mining, further straining the already stressed hydropower generation caused by insufficient rainfall in the country this year.
The government said the illegal mining operations for virtual currencies that rely on electricity intended for households cause transformers to be overloaded, damaging the power grid. According to Tehran Times, Iranian Ministry of Energy spokesperson Mostafa Rajabi Mashhadi said unauthorized miners "will be fined when identified and held responsible for the damages they cause to the electricity network."
Mining rapidly expanding in Iran
Back in 2019, the Iranian government legalized cryptocurrency mining, classifying it as an industrial activity.
In 2020, over 1,000 mining licenses were issued by the Ministry of Industry, Mining, and Trade, and power companies were provided with an avenue to increase their profits through meeting the industry's power demands.
Selling electricity to cryptocurrency miners was seen as an option to fill the gap between revenues and expenditures in the electricity industry. However, with the current energy crisis being faced by the country, this move is now also being questioned.
Power consumption through the roof
Per the latest available data, the cryptocurrency mining sector in Iran consumes up to 1,500 megawatts of electricity each day. Back in December, this figure only sat at 300 megawatts. Authorities revealed that only around 200 megawatts of the current average daily consumption are legal.
Chinese companies have taken advantage of low and subsidized electricity prices in Iran to establish mining operations in the country's Special Economic Zones.
The Ministry of Industry, Mines, and Trade estimates around $660 million worth of cryptocurrency is mined annually by unlicensed facilities in Iran.
Image courtesy of Cointelegraph News/YouTube
Coinsmart. Beste Bitcoin-Börse in Europa
Source: https://bitcoinerx.com/blockchain/iranian-government-to-penalize-crypto-miners-using-household-power/