Chainlink (LINK) Surges 25% Higher as Altcoin Market Recovers
Altcoins such as Chainlink took a strong beating over the past three days, plunging dozens of percent from their recent highs as Bitcoin and Ethereum plunged lower. While some altcoins remain near their lows as, LINK has undergone a strong bounce that has brought the cryptocurrency 25% higher in the past 24 hours. Analysts, though, […]
Altcoins such as Chainlink took a strong beating over the past three days, plunging dozens of percent from their recent highs as Bitcoin and Ethereum plunged lower.
While some altcoins remain near their lows as, LINK has undergone a strong bounce that has brought the cryptocurrency 25% higher in the past 24 hours. Analysts, though, are divided over what comes next for Chainlink.
Chainlink Recovers as Altcoin Relief Rally Takes Place
Santiment, a blockchain analytics firm, is optimistic about Chainlink's prospects. The company shared the chart below prior to the ongoing recovery, noting that LINK's 30-day MVRV suggests there is an "opportunity to buy low."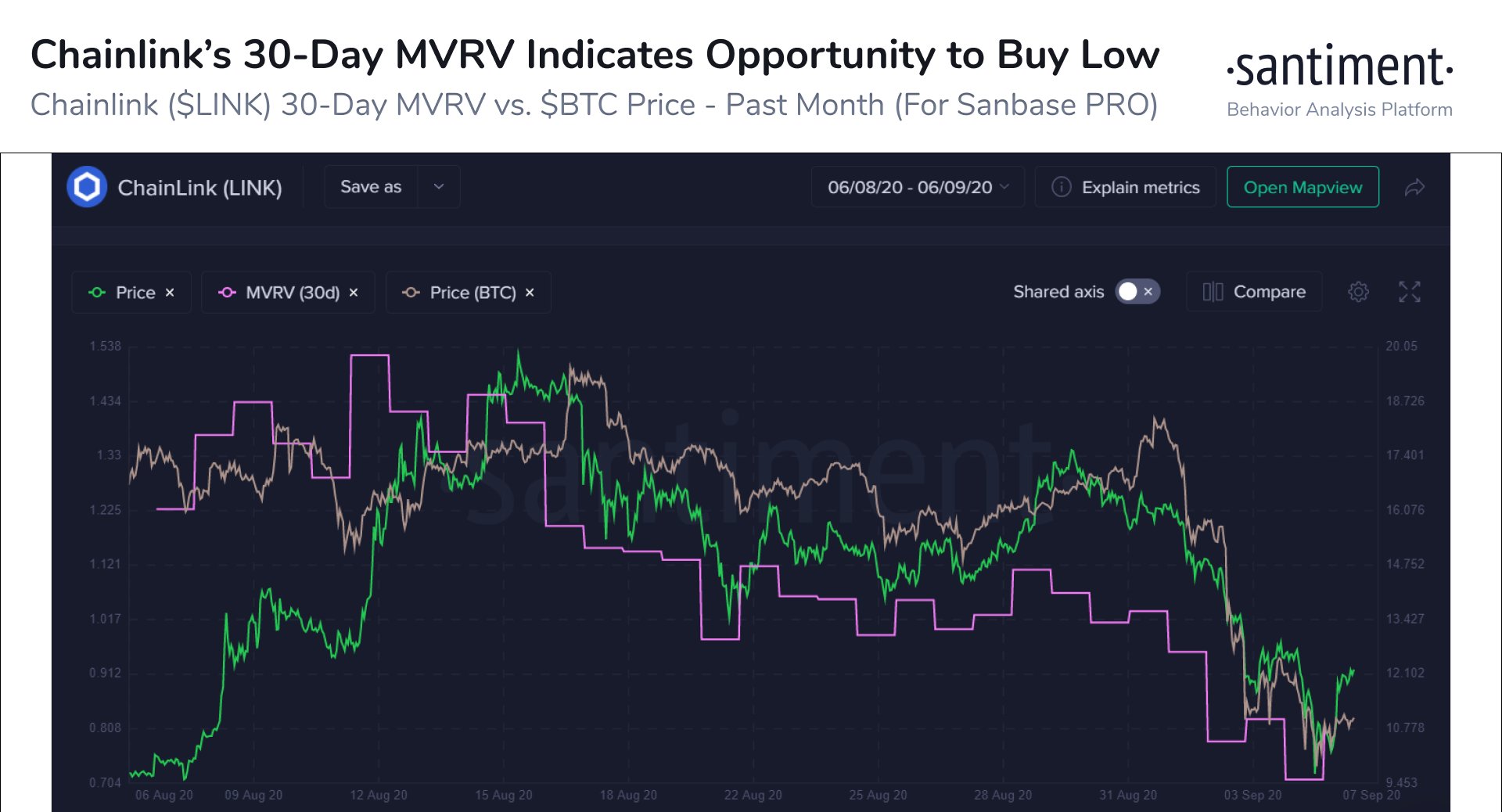 Chart of LINK's recent price action with analysis Santiment
Some think that a correction is more likely, though. Michael Van De Poppe, a crypto trader and writer, recently shared the chart below, suggesting that the asset will top around $13-14, then correct back towards $10:
"Point of interest two from a while ago got hit. Also, a nice bullish divergence got there as well and one of the strongest bouncers in previous days. An HL construction around $10-10.50 would definitely trigger a long for me towards $14.50."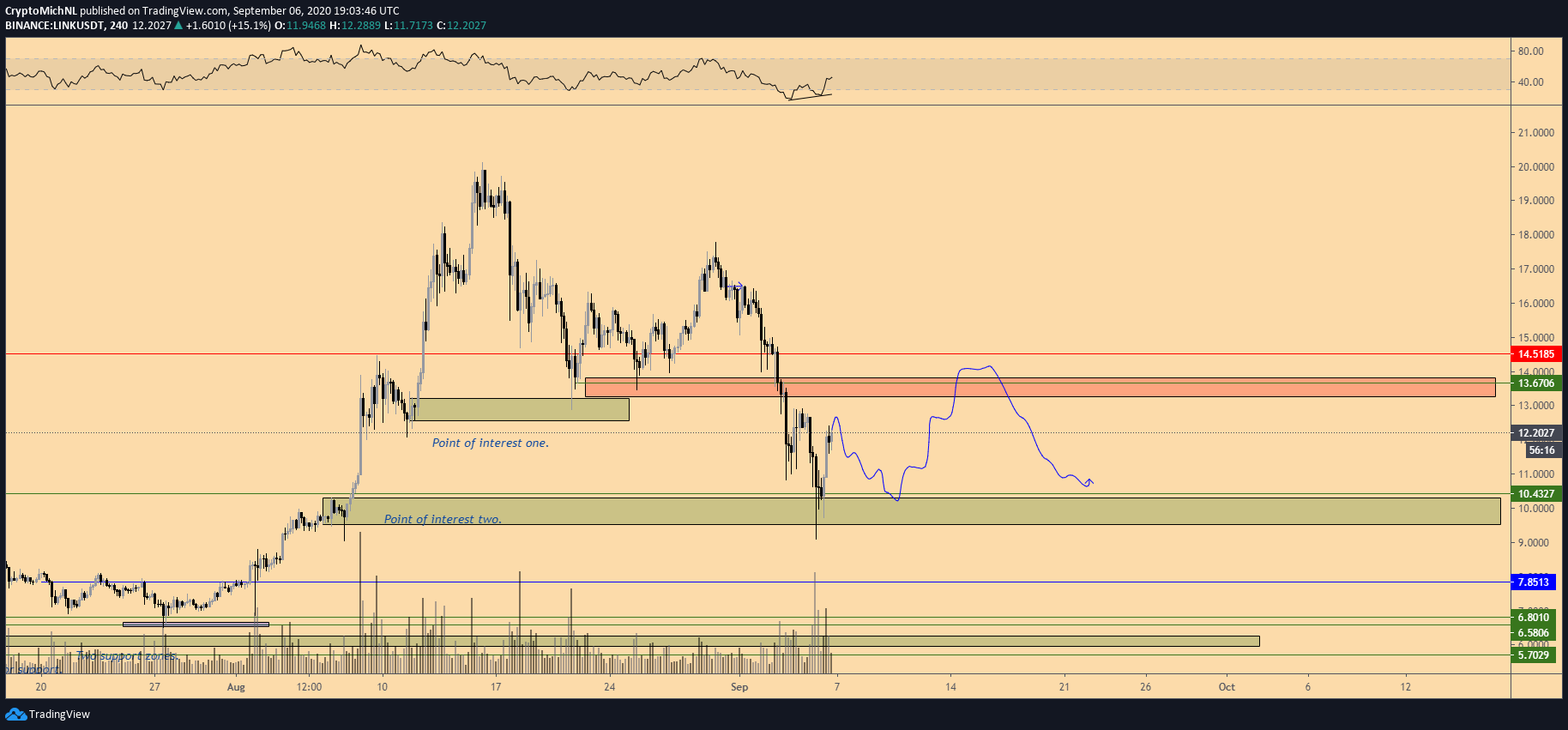 All Eyes on Bitcoin
Bitcoin is likely to dictate the directionality of altcoins moving forward.
Fortunately for bulls, BTC is primed to move higher after the strong crash seen over recent days.
One trader shared the chart below during the move lower. It shows that Bitcoin has bounced off a pivotal support region during the correction, indicating it remains in a bullish state on a macro time frame:
"$BTC funding and premium index reached the lowest it had been since March 19th yesterday… Except this time we're retesting a multi-year S/R level with a confirmed bullish break in MS all the way up to the monthly chart…"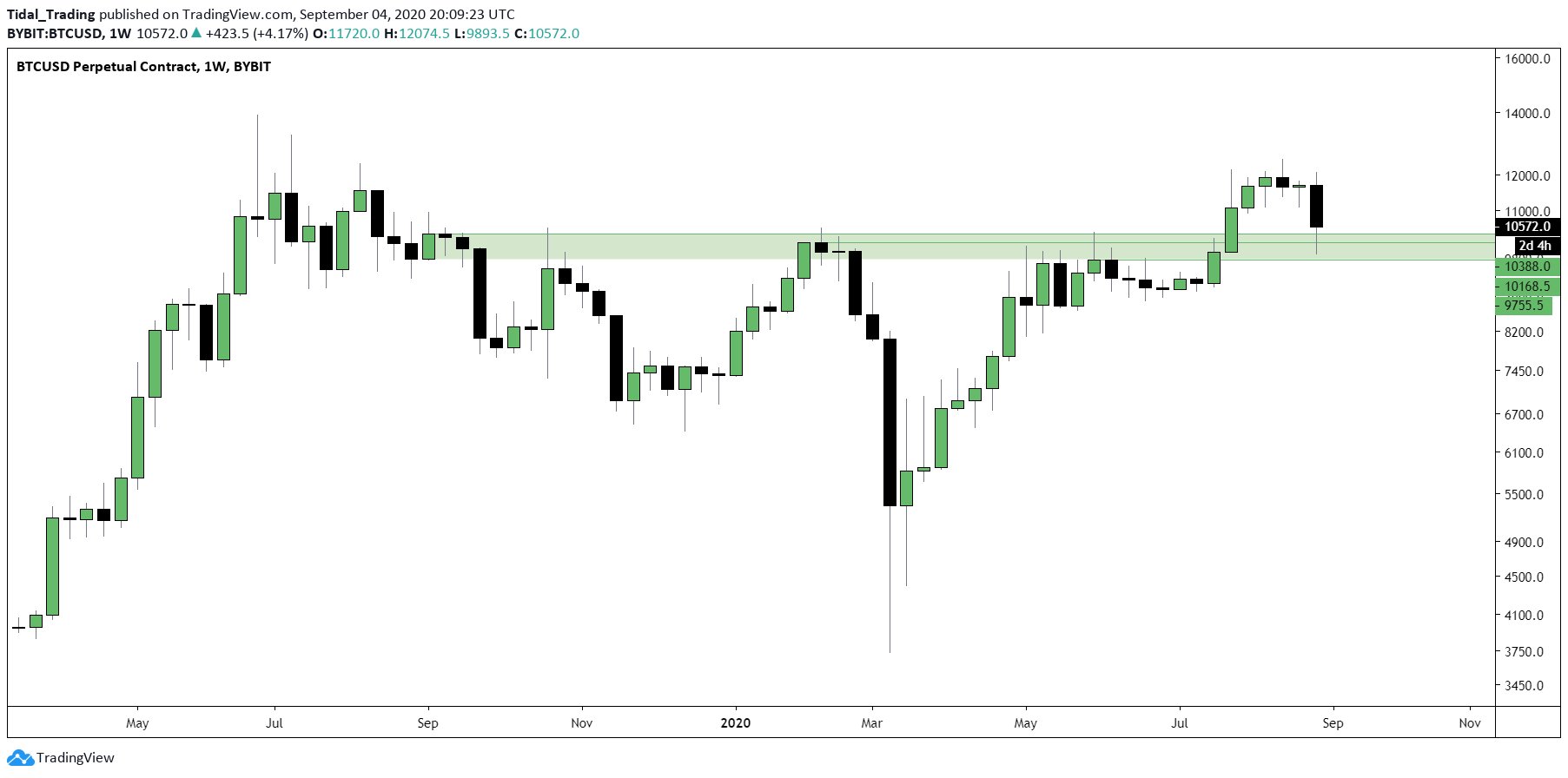 Chart of BTC's macro price action with analysis by crypto trader HornHairs (@CryptoHornHairs on Twitter). Chart from TradingView.com
The fundamentals of Bitcoin also remain positive. For one, the European Central Bank is expected to add more monetary stimulus to bolster the economy while there are expectations of more fiscal stimulus in the U.S. once Congress reconvenes.
Featured Image from Shutterstock
Price tags: linkusd, linkbtc
Charts from TradingView.com
Chainlink (LINK) Surges 25% Higher as Altcoin Market Recovers
Source: https://www.newsbtc.com/2020/09/06/chainlink-link-surges-25-higher-altcoin-market-recovers/?utm_source=rss&utm_medium=rss&utm_campaign=chainlink-link-surges-25-higher-altcoin-market-recovers
Ethereum EIP-1559 Targeting Gas Fee Challenges to be Implemented in July
The contentious Ethereum Improvement Proposal (EIP) 1559, will be included in its codebase in July this year. This became clear during the All Core Developers call today.
EIP 1559: What Does it Mean for Fees?
Ethereum's Improvement Proposal 1559 is aimed at improving the overall Ethereum's user experience when it comes to transaction fees.
Typically, a user would have to send a gas fee to a miner for their transaction to be included in a block. What EIP-1559 proposes, however, is to send that gas fee to the network itself. Called basefee, this is a sort of a "burn" and there would only be an optional tip that's paid to the miners. The burnt fee would be set algorithmically, supposedly improving the UX.
The proposal was originally submitted by Eric Conner and its summary provides an overall outlook at what it attempts to achieve:
A transaction pricing mechanism that includes fixed-per-block network fee that is burned and dynamically expands/contracts block sizes to deal with transient congestion.
During today's All Core Developers call, it was decided that it will be included in the so-called London hard fork coming this July.
Some Miners Disagree
Despite the potential improvements on the entire network that could come with EIP-1559, some of the largest Ethereum mining pools have openly displayed division on where they stand.
F2Pool, the third-largest ETH mining pool with over 10% hashrate share, shared a post, in which it supported the initiative, claiming that it would ultimately have a positive impact.
The publication says that "the general community along with core developers are siding with evolving Ethereum to include EIP-1559. It is important to side with the users and core contributors."
F2Pool's statement also argued that the potential EIP-1559 implementation could be factored in ETH's price, which is more than 100% from the start of the year.
In contrast, though, the largest mining pool with nearly 25% share of the hashrate, Sparkpool, didn't feel the same way about the integration as it could reduce the profits. They took it to Twitter to emphatically assert that the mining pool "opposes EIP-1559."
SPECIAL OFFER (Sponsored)
Binance Futures 50 USDT FREE Voucher: Use this link to register & get 10% off fees and 50 USDT when trading 500 USDT (limited offer).
PrimeXBT Special Offer: Use this link to register & enter CRYPTOPOTATO35 code to get 35% free bonus on any deposit up to 1 BTC.
---
Checkout PrimeXBT
Trade with the Official CFD Partners of AC Milan
The Easiest Way to Way To Trade Crypto.
Check out Nord
Make your Money Grow with Mintos
Source: https://cryptopotato.com/ethereum-eip-1559-targeting-gas-fee-challenges-to-be-implemented-in-july/
Uniswap, Crypto.com Coin, Compound Price Analysis: 07 March
Uniswap broke out past the $29.3 level of resistance, while Crypto.com Coin was in a phase of consolidation. Compound bounced off the $450 level of support to touch $500 but could see a pullback to $470.
Uniswap [UNI]
UNI broke out and went past the $29 area of resistance, where the 23.6% retracement level and the $27.3 level of resistance lay. The upward move had extraordinary volume as UNI touched $31.54 but some selling pressure was seen in the subsequent trading session.
The Doji candle represented short-term exhaustion from the bulls, and the breakout could see UNI pullback to test the $29.3 level to confirm its flip from resistance to support.
The MACD showed strong bullish momentum behind UNI. Bearish divergence on the hourly chart between momentum (MACD) and the price could be seen in the coming hours, which would likely see UNI pullback to $29.4. This can be used to enter long positions, with a stop-loss just at $28.7.
Crypto.com Coin [CRO]
The Bollinger bands showed that CRO was in a phase of consolidation at and around its 38.2% retracement level at $0.152. The RSI moved back above neutral 50 to indicate that momentum was swaying towards the bulls' side.
The defense of the 50% retracement level at $0.127 and the immediate bounce-off was a show of strength from bulls – the $0.146-$0.152 region can be used to accumulate CRO in expectation of another move upwards. The $0.173 and $0.189 levels are levels of resistance to watch.
Compound [COMP]
Compound saw a strong bounce-off at the $450 mark which represents a 23.6% retracement for COMP's move from $205 to $573. At the time of writing, COMP faced some resistance at the $500 area.
Moreover, the Awesome Oscillator on the hourly chart displayed a bearish twin peak set up and gave a sell signal. This development, followed by the AO registering bearish bars on its histogram, is likely to see the price dip to $470. Bulls would need to show some strength at $470, or bears can drive the prices lower to $450 once more.
Checkout PrimeXBT
Trade with the Official CFD Partners of AC Milan
The Easiest Way to Way To Trade Crypto.
Check out Nord
Make your Money Grow with Mintos
Source: https://ambcrypto.com/uniswap-crypto-com-coin-compound-price-analysis-07-march
Pakistan: Arrests made in Bitcoin extortion case
The world of finance has never been able to protect itself from the fraudulent activities going around in the world. The cryptocurrency market, which itself is a growing space has also had its fair share of such fraudulent activity being associated with it. However, unlike traditional finance, regulators have been enforced stringent measures when it comes to tackling such offenses.
A recent case has been reported in Pakistan, where the police have arrested several people part of the country's first extortion case via crypto. According to reports, the police arrested the owner of an outhouse where the complainants, two foreign nationals, were held hostage along with two other suspects.
One of the suspects was identified as Rana Irfan Mahmood and a case has been registered against him and an unidentified accomplice. The hostages were Swiss national Maria Spari and German citizen Stephen [last name remains unknown] who were kidnapped by three men in police uniform along with another person.
After threatening the hostages with a fake drug smuggling case, the victims paid 6,300 euros in cash and made an online transfer of 1.8 Bitcoin which was close to $9k. The suspects made a fake video demanding an additional Rs 300 million [$1.91 million].
According to SSP Investigation Abdul Ghaffar Qaisrani, the police have managed to recover the amount paid to the facilitator apart from the Bitcoin. The crypto has already been transferred to another account and the team was taking assistance from the intelligence agencies to recover it.
Although the regulators in Pakistan have been taking note of Bitcoin and crypto, illicit activities have been a growing concern in the region. In November 2020, the Central bank clarified that it was not banning crypto, contrary to the prevailing fear within many in the crypto-community.
In fact, Pakistan's Securities and Exchange Commission [SEC] published a paper on the regulation of cryptocurrency trading platforms. This paper outlined the regulatory approach to crypto and included recommendations given by the Financial Action Task Force [FATF], as well as regulations presented by Malaysia, Hong Kong, and the U.S.
However, the police in the country have warned users and the government about the rising cases of ransom and extortion related to crypto. Bitcoin has been at the center of these cases and such fraud activities will only instill fear with the lack of regulation among crypto users in the region.
Checkout PrimeXBT
Trade with the Official CFD Partners of AC Milan
The Easiest Way to Way To Trade Crypto.
Check out Nord
Make your Money Grow with Mintos
Source: https://ambcrypto.com/pakistan-arrests-made-in-bitcoin-extortion-case