Blockchain Voting App Voatz Wants Outside Security Research Limited
Voatz, the target of several unsuccessful breaches, told the Supreme Court that unauthorized security research should fall under the Computer Fraud and Abuse Act.
In brief
Voatz filed an amicus brief to the US Supreme Court.
It argued that the Computer Fraud and Abuse Act should be applied to unauthorized security research.
Electronic Frontier Foundation, by contrast, argued that a broad interpretation of the act could put a chill on valuable security research.
Earlier this year, after MIT researchers took blockchain-based voting app Voatz to task for alleged security vulnerabilities, Voatz criticized the academics for relying on assumptions instead of asking it for access to the server.
Now, Voatz has told the U.S. Supreme Court that third-party researchers legally shouldn't be able to poke around on others' systems at all without the permission of the company being researched—and under its supervision.
At stake in the case under review is the ability of independent security researchers to do their work and alert the public to vulnerabilities that might otherwise quietly get swept under the rug.
When is a computer breach a crime?
Yesterday, Voatz submitted an amicus brief to the US high court in the case of Van Buren v. United States. (Amicus briefs are legal arguments filed from parties that aren't involved in the trial but have a stake in the outcome.)
The case involves a former Georgia police sergeant named Nathan Van Buren, who allegedly demanded an unnamed person give him money to access a law enforcement database. Van Buren was busted by the FBI during a sting operation and convicted of violating the Computer Fraud and Abuse Act (CFAA), a federal law that broadly prevents people from hacking into computers.
Van Buren argued, however, that the CFAA doesn't apply because he had access to the database; even though he wasn't supposed to use it in this manner, he wasn't just some hacker. That case has now made its way to the Supreme Court, which will rule on "whether a person who is authorized to access information on a computer for certain purposes violates…the [CFAA] if he accesses the same information for an improper purpose."
However, a slew of civil liberties groups and criminal justice organizations have weighed in, seeing the case as potentially setting a larger precedent. That is: Are independent security researchers really just meddlesome hackers who should be prosecuted, or are they providing a valuable public service and therefore outside the scope of the law?
That prompted Voatz to file its own opinion with the court.
Voatz v. EFF
The pro-privacy Electronic Frontier Foundation, which filed an amicus brief, argued the CFAA as currently construed could be used to convict anyone who "violates a website's terms of service."
According to EFF, that would put independent "computer security researchers at legal risk for engaging in socially beneficial security testing through standard security research practices, such as accessing publicly available data in a manner beneficial to the public yet prohibited by the owner of the data."
Pitting itself against EFF, Voatz argued that the scope of the CFAA shouldn't be narrowed—it works just fine. There's no need for independent research. Instead, it said:
"The necessary research and testing can be performed by authorized parties. These include private consulting firms and participants in organized 'bug bounty' programs."
According to Voatz, "Unauthorized research and public dissemination of unvalidated or theoretical security vulnerabilities can actually cause harmful effects."
It's referring to research published this year by MIT researchers who, it claims, "[analyzed] a version of the Voatz voting application that was several versions out of date at the time, and that was never authorized for use in any election."
Since the researchers could not access Voatz servers, the blockchain-voting company claims they "fabricated an imagined version of the Voatz servers, hypothesized how they would likely work, and then made assumptions about the interactions between the system components that turned out to be false."
Had they worked with Voatz, the brief implies, the researchers might have produced relevant findings.
Moreover, even if unsuccessful, this type of research can still cost time and money for the organization on the other end, as well as law enforcement, as it's difficult to tell an actual attack from harmless research.
Such was the case when a group unsuccessfully tried to breach the West Virginia election system, which has used the Voatz app for several pilots. The FBI got involved, only to discover it was likely the work of Michigan university students as part of a class exercise.
The Supreme Court could hand down an opinion as soon as October 13.
Source: https://decrypt.co/40964/blockchain-voting-app-voatz-wants-limits-outside-security-research
This Bitcoin HODLer Metric Has Just Flipped Green For The First Time In 8 Months – Here's What This Means
The long wait is over, or so it appears as Bitcoin holders prepare to set foot into a green zone after seven months of red hot drought.
The earliest signs of a bullish rebound for Bitcoin were sighted on Glassnode's on-chain metrics this week. Bitcoin users joyfully watched as the index flipped an unprofitable red-run that had gripped hodlers of the apex crypto-currency since mid-November.
Popular crypto expert, Will Clemente noted this latest bitcoin development as a sequel to last month's net holders position outlook which showed a large sales of Bitcoin coming from the camp of inpatient short-term holders.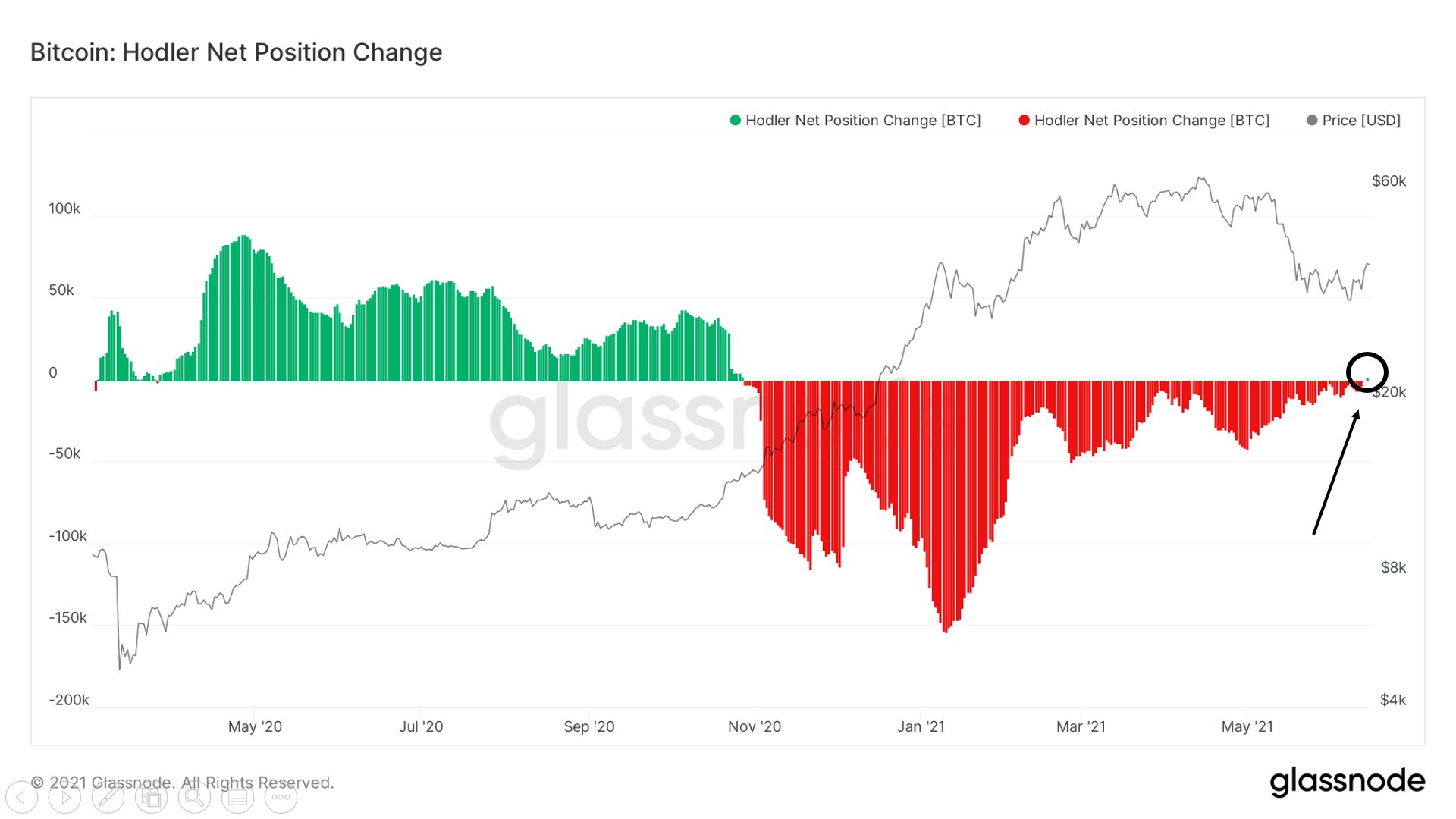 What Does This Imply?
The biggest take from this new index is that patient bitcoin holders may now finally see positive returns on their long-term investments.
It also may show that the market has fully corrected holding positions as was seen last month, where Bitcoin's dip below the $35,000 resistance frightened many new entrants, including young whales (who held large amounts of bitcoin for less than three months), leading to a massive liquidation drive that transferred coins from young holders to old and experienced holders.
Who are the catalysts?
It is unclear what exactly may have spruced the ground for a much-needed leap up, but one cannot underestimate the impact of Bitcoin's recent acceptance by the government of El-Salvador. Having emerged as the first of its kind to tear through the government's veil of financial legitimacy, the scale of its operation and use may now become more expanded than ever before. This is most likely to spur more citizens and governments of other countries to innovate their financial system around the digital currency with growing national acceptance.
Others may attribute part of its recent success to Elon Musk's turncoat claims about Tesla returning to Bitcoin, after ditching the currency in a precarious moment.
But one thing inevitably clear, in the world of crypto influencers is the role of Michael Saylor to keep the masts of bitcoin sailing amidst the troubled waters of last month. From a conference to address energy concerns to an additional injection of $1 billion into bitcoin, the CEO of MicroStrategy has done a lot to build resistance for the apex currency.
Going Forward
As Will Clemente spots the early symptoms of progress, it is expected that many investors who remained skeptical about buying and waiting through the dip, would want to cast in their lots before the entry price soars to the point of eroding leverage.
This means more activity for Bitcoin, more health value upshot, and more reward for those who took Robert Kiyosaki's advice to 'buy the dip.'
Coinsmart. Beste Bitcoin-Börse in Europa
Source: https://zycrypto.com/this-bitcoin-hodler-metric-has-just-flipped-green-for-the-first-time-in-8-months-heres-what-this-means/
Paraguayan Official Confirms: In July We Legislate Bitcoin
Paraguay's Deputy of the Nation, Carlos Antonio Rejala Helman, has confirmed that new legislation in regards to Bitcoin will arrive in July. This comes amid growing adoption in Latin America led by El Salvador, which could be followed by Panama as well.
CryptoPotato reported last week when Rejala Helman said his country planned to start working on an "important project" that included Bitcoin and PayPal
Although he provided little-to-no information at the time about the precise nature of the project, the official confirmed it's coming in a more recent tweet.
Commenting on news indicating that one of Paraguay's largest entertainment organizations has started to accept various digital assets, Rejala Helman emphatically asserted, "This is Paraguay. July we legislate! #Bitcoin."
This comes shortly after Gabriel Silva, a Panamanian congressman, laid out plans to present a bill on cryptocurrency adoption as a legal tender as well.
He believes Panama should not trail other nations from the region that have already taken steps to legalize Bitcoin.
Naturally, he meant El Salvador. The small country located in Central America has been the leader in terms of BTC adoption.
As reported recently, the nation officially voted in favor of a new rule making Bitcoin a legal tender within its borders. El Salvador's President, Nayib Bukele, further outlined his support for the asset and even urged miners to mine BTC with the thermal energy of the country's volcanoes.
SPECIAL OFFER (Sponsored)
Binance Futures 50 USDT FREE Voucher: Use this link to register & get 10% off fees and 50 USDT when trading 500 USDT (limited offer).
PrimeXBT Special Offer: Use this link to register & enter POTATO50 code to get 50% free bonus on any deposit up to 1 BTC.
---
Coinsmart. Beste Bitcoin-Börse in Europa
Source: https://cryptopotato.com/paraguayan-official-confirms-in-july-we-legislate-bitcoin/
U.K's crypto-users are growing in number, but do they even understand the asset class?
The United Kingdom's approach to cryptocurrency regulations has been measured, but it has matured in the post-Brexit financial landscape. Even though the U.K didn't ban the whole crypto-sector, there were still some hiccups on the way, however. Looking at how things currently stand, did the crypto-community in the U.K evolve? Here's a recent study to highlight the same.
The country's main regulatory body, the FCA, recently published an in-depth report to provide an overview of cryptocurrencies and their use in the U.K. The research note titled "Crypto asset consumer research 2021" incorporated various factors to account for the current market frenzy. As per this report, various attributes recorded an uptick whereas there were a few concerns as well.
Our new research finds an increase in ownership but a decline in understanding of #cryptoassets https://t.co/Tp9UijRAui

— Financial Conduct Authority (@TheFCA) June 17, 2021
Crypto-holdings
Talking about the former first, around 2.3 million adults in the U.K currently hold crypto-tokens in their portfolios, a significant hike from 1.9 million in 2020. The number of current owners too surged from about 3.9% to 4.4% of adults.
What's more, the ownership volume findings too painted a similar picture. As per the study, the average median holdings rose to 300 British pounds ($420) from 260 pounds ($370) in 2020. Out of these holdings, Bitcoin had a majority share, with 82% of the respondents recognizing BTC, compared to 78% last year.
Public awareness
With respect to the latest boom in crypto-developments in the U.K, it's natural to witness the roaring demand in the crypto-space. This parameter, likewise, noted a surge as 78% of adults were up to date, a significant incline from 2019 and 2020.
Quite the contrary now.
However, roaring awareness doesn't always equate to understanding the underlying asset. Such is the case here.
"Only 71% of those who had heard of crypto correctly identified its definition from a list of statements. This was a statistically significant decline of 4% from 2020."
According to the FCA,
"This suggests there may be a risk of consumers engaging with cryptocurrency without a clear understanding of it."
Can this be one of the reasons?
Looking further, traditional media (TV, newspapers, radio, etc) are still the most common source (27%) for the U.K residents to take the first step in this domain. Does this imply that many still rely on the different broadcasts to directly jump onto the crypto-frenzy bandwagon instead of understanding its core? Well, certainly the data points in the said direction.
Here's what Sheldon Mills, the FCA's Executive Director of Consumers and Competition, said in a recent discussion regarding the same.
"It is important for customers to understand that, because these products are largely unregulated, if something goes wrong they are unlikely to have access to the FSCS (Financial Services Compensation Scheme) or the Financial Ombudsman Service."
Coinsmart. Beste Bitcoin-Börse in Europa
Source: https://ambcrypto.com/u-ks-crypto-users-are-growing-in-number-but-do-they-even-understand-the-asset-class