Bitcoin Institutional Inflows Are Rising as Grayscale Bitcoin Portfolio Now Estimated to be Worth $23.69 Billion

Bybt crypto trading platform has disclosed that Bitcoin institutional inflows are not showing any signs of slowing. (Read More)
Bitcoin (BTC) continues being the talk of the town after it set a new high of $41,500, but it has since tumbled to around the $35K level based on a looming correction. Nevertheless, Bitcoin has traded at highs of 38K this week, but despite its ongoing volatility, BTC has managed to retain a level above the 30K for some time, and this seems may prove to be a crucial support level.
The overwhelming appetite for BTC by institutional investors seems to be increasing because the leading cryptocurrency is continuously stamping its authority as an inflationary hedge.
Bybt cryptocurrency trading platform has disclosed that Bitcoin institutional inflows are not showing any signs of slowing. The aggregated derivative exchange noted:
"Bitcoin (BTC) institutional inflows show no signs of slowing down; there may be a new round of buying. Grayscale Bitcoin Trust Clocks $23.69 Bln."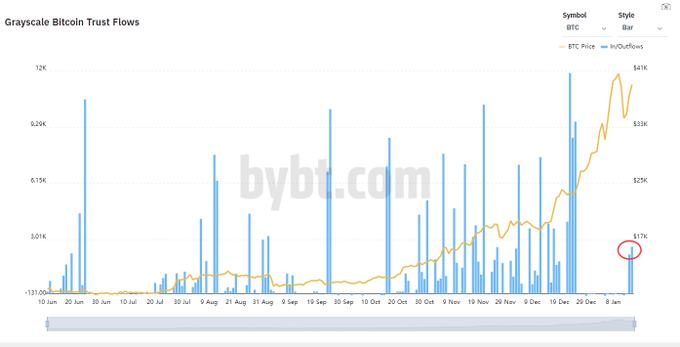 Grayscale, a digital asset management firm, has been setting the ball rolling as one of the leading corporate giants heavily invested in Bitcoin based on its $23.69 billion BTC portfolio. Michael Saylor, the MicroStrategy CEO, has disclosed that Bitcoin is emerging as a new and compelling institutional-grade safe-haven asset. Therefore, it is appealing to the eyes of institutions as an ideal inflationary hedge.
MicroStrategy, a leading business intelligence firm, has also been on a spending spree because towards the end of 2020, it added more BTC to its portfolio. This time, a total amount of Bitcoin worth $650 million was added to its treasury reserve.
Institutional investors are protecting the $30,000 level
Ki Young Ju, the CEO of on-chain data provider CryptoQuant.com, noted that many institutional investors bought Bitcoin at the $30-32k level, so they felt obligated to put up a shield. He explained:
"There are many institutional investors who bought BTC at the 30-32k level. The Coinbase outflow on Jan 2nd was a three-year high. Speculative guess, but if these guys are behind this bull-run, they'll protect the 30k level. Even if we have a dip, it wouldn't go down below 28k."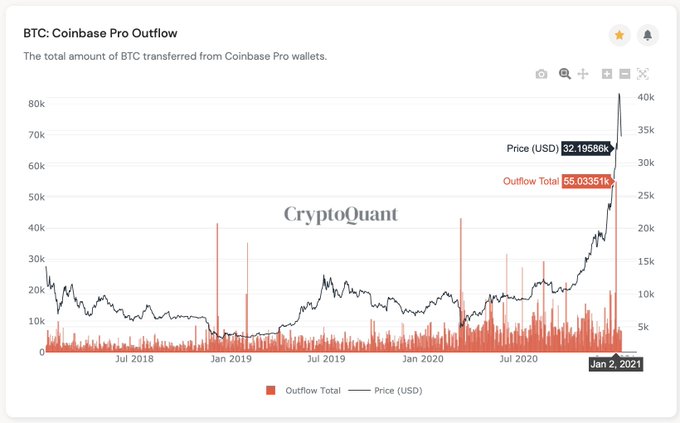 Institutional investors have been touted as game-changers in the current Bitcoin bull run and as the fear of missing out (FOMO) continues to cripple many investors. Time will tell what is in store for BTC moving forward.
Image source: Shutterstock Source: https://Blockchain.News/news/bitcoin-institutional-inflows-are-rise-grayscale-bitcoin-trust-portfolio-now-estimated-be-worth-23.69-billion
Circle K to Host Bitcoin ATMs Across its Convenience Stores
Major bitcoin ATM operator Bitcoin Depot has inked a long-term partnership deal with convenience store chain Circle K to install Bitcoin kiosks in the United States and Canada.
Bitcoin Depot and Circle K Partner to Install Bitcoin ATMs
Bitcoin Depot announced the deal via a press release on Thursday (July 22, 2021). According to the company, there are more than 700 Bitcoin ATMs already installed in Circle K locations in 30 states across the U.S.
The partnership provides individuals with a more convenient way to purchase bitcoin, thereby encouraging widespread adoption of the flagship cryptocurrency. Bitcoin Depot already has over 3000 BTC ATM kiosks located in almost every state in the U.S. and also allows users to buy more than 30 cryptocurrencies, including BTC, ETH, and LTC.
Speaking on the latest development, Brandon Mintz, CEO of Bitcoin Depot, said that the partnership deal with Circle K enables the crypto ATM company to expand its services internationally. Mintz also said that the installation of the Bitcoin ATMs would grow the number of customers visiting the convenience store chain while providing financial access to "underserved communities."
Circle K's Senior Vice President Global Merchandise and Procurement, Denny Tewell, also made a statement, saying:
"At Circle K, we are passionate about making our customers' lives a little easier every day, and we are continually looking at ways to enhance their experience in our stores and be their favorite shop for a growing range of needs and occasions."
Tewell added:
"Our partnership with Bitcoin Depot further builds on this commitment, giving our brand an important, early presence in the fast-growing cryptocurrency marketplace as a convenient destination where customers can buy Bitcoin."
Bitcoin ATMs Continue Exponential Growth
The growth of crypto ATMs globally signals an increasing demand for bitcoin and other cryptocurrency assets. According to data from Coin ATM Radar, there are currently 23,915 crypto ATMs in 75 countries, up from 11,665 ATMs recorded in November 2020. This shows that the number of machines has more than doubled in eight months.
Statistics further show that the United States continues to lead with over 21,000 Bitcoin ATM locations, controlling more than 86% of the market. Canada comes second with BTC ATMs installations in 1696 locations, amounting to 6.8% of the world total.
SPECIAL OFFER (Sponsored)
Binance Futures 50 USDT FREE Voucher: Use this link to register & get 10% off fees and 50 USDT when trading 500 USDT (limited offer).
PrimeXBT Special Offer: Use this link to register & enter POTATO50 code to get 50% free bonus on any deposit up to 1 BTC.
---
PlatoAi. Web3 Reimagined. Data Intelligence Amplified.
Source: https://cryptopotato.com/circle-k-to-host-bitcoin-atms-across-its-convenience-stores/
Jack Dorsey Sees Bitcoin as a Big Part of Twitter's Future
Jack Dorsey, the CEO of Twitter – one of the largest social media platforms on Earth – said that Bitcoin will be a big part of the company's future.
Yesterday, July 22nd, Twitter published its Q2 2021 letter to shareholders, as well as its Q2 Earnings Conference Call.
During the call, Jack Dorsey discussed many things, but Bitcoin and digital currencies took somewhat of a central stage, especially in light of current events and the fact that he's been talking about it quite a bit.
I think this [read: Bitcoin] has a big part of our future. I think there's a lot of innovation above just currency to be had, especially as we think about decentralizing social media more and providing more economic incentive. So I think it's hugely important to Twitter and to Twitter shareholders that we continue to look at the space and invest aggressively in it. – Said Dorsey.
He also stressed on the fact that if there were a global currency of the Internet, Twitter would benefit a lot because it could move quickly with some of its products such as the Tip Jar, Subscription, Commerce, Super Follows, and so forth.
The CEO has been quite vocal about the importance of Bitcoin and its mass adoption.
Earlier, as reported by CryptoPotato, the CEO revealed that his financial services company, Square, plans to build a hardware Bitcoin wallet to improve and spread its adoption.
SPECIAL OFFER (Sponsored)
Binance Futures 50 USDT FREE Voucher: Use this link to register & get 10% off fees and 50 USDT when trading 500 USDT (limited offer).
PrimeXBT Special Offer: Use this link to register & enter POTATO50 code to get 50% free bonus on any deposit up to 1 BTC.
---
PlatoAi. Web3 Reimagined. Data Intelligence Amplified.
Source: https://cryptopotato.com/jack-dorsey-sees-bitcoin-as-a-big-part-of-twitters-future/
'Wolf Of Wall Street' Jordan Belfort: Elon Musk Is Filthy Rich To Pump And Dump Bitcoin
Advertisement & &
Jordan Ross Belfort, best known as the "Wolf of Wall Street" portrayed by Leonardo DiCaprio, doesn't believe that Tesla/SpaceX CEO Elon Musk really manipulates crypto prices contrary to countless claims.
Speaking with Fox Business on Thursday, Belfort posited that Musk is stinking rich to be pumping and dumping dogecoin, bitcoin, or other cryptocurrencies in order to make a quick buck off of it.
"I like Elon Musk and I think he's rich enough. He doesn't have to make an extra few dollars pumping and dumping."
Jordan Belfort, the former Wall Street penny-stock broker who pleaded guilty to stock market fraud in 1999, explained that while Musk himself might not be pumping and dumping, traders might be using his endorsement and they pump and dump around the hype that the billionaire tycoon creates.
Musk, famous for his odd-timed tweets, has constantly been accused of being a master manipulator. Notably, his tweets on major cryptocurrencies like DOGE and BTC, have sent their prices up and down within seconds.
Advertisement & &
At The B Word conference held on Wednesday, Musk shared details of the three cryptocurrencies that he personally owns as well as the cryptos held by his two companies. He also admitted that he might occasionally pump crypto prices, but he doesn't dump. "If the price of bitcoin goes down, I lose money," Musk explained.
The Tesla chief went on to state that he is interested in seeing bitcoin succeed — not just getting the price high and cashing out at higher prices.
Belfort, however, maintains that Musk is most likely "inadvertently being used" to pump and dump cryptocurrencies.
Belfort Is Hoping Bitcoin Price Rips Lower
During his interview, Belfort also affirmed that he is invested in bitcoin (BTC), and ethereum (ETH) and is in it for the long haul. In fact, he hopes the price of the bellwether cryptocurrency falls again to as low as $5K per coin so that he can grab some more.
"I would love it to go lower because I'm a long-term investor so I don't care if it goes up or down in the short term. I would love it to go back to $5000 and buy a ton of it here and that would be a great thing."
At the time of publication, the bitcoin price is in the process of attempting a sustained breakout above $32,400 where the price has been hovering for 48 hours or so.
The Wall Street criminal-turned-author also noted that no one actually knows where the price of bitcoin goes next and if anyone says they do, they are definitely lying.
PlatoAi. Web3 Reimagined. Data Intelligence Amplified.
Source: https://zycrypto.com/wolf-of-wall-street-jordan-belfort-elon-musk-is-filthy-rich-to-pump-and-dump-bitcoin/