3 Signals Show That Ethereum Is Primed to Bounce After 35% Crash
Ethereum has already seen a somewhat strong recovery from the local lows. After plunging as low as $315 on Saturday morning, the leading cryptocurrency has undergone a bounce of 8%, reaching $340 as of this article's writing. ETH is primed to move even higher, though, according to a recent analysis by a cryptocurrency trader. The […]
Ethereum has already seen a somewhat strong recovery from the local lows. After plunging as low as $315 on Saturday morning, the leading cryptocurrency has undergone a bounce of 8%, reaching $340 as of this article's writing.
ETH is primed to move even higher, though, according to a recent analysis by a cryptocurrency trader. The analysis suggests that Ethereum's recent correction is actually just par for the course and a likely precursor to further recovery.
This is in line with other analyses suggesting that Bitcoin is dramatically sold and also poised to bounce in the days ahead.
ETH has outperformed BTC on the bounce, with the former gaining 8% from the lows while the latter has rallied a mere 3.5%.
Ethereum Remains in a Positive Spot From a Macro Perspective: Analyst
Ethereum is primed to see a strong rally after bouncing 8% from its local lows, a number of analysts have suggested.
One crypto trader cited three pivotal reasons to explain why ETH is actually in a good spot from a macro time frame. These reasons are as follows:
Ethereum has bounced off a pivotal one-week support level in the $300 range as shown below. This level was the point at which four separate weekly candles topped in the middle of 2019.
ETH has "taken out the lows into the demand that sent us from $300 to $400" on the one-day chart.
The cryptocurrency has touched the "reversion bands," an indicator created by an analyst that precisely predicted the recovery in March earlier this year.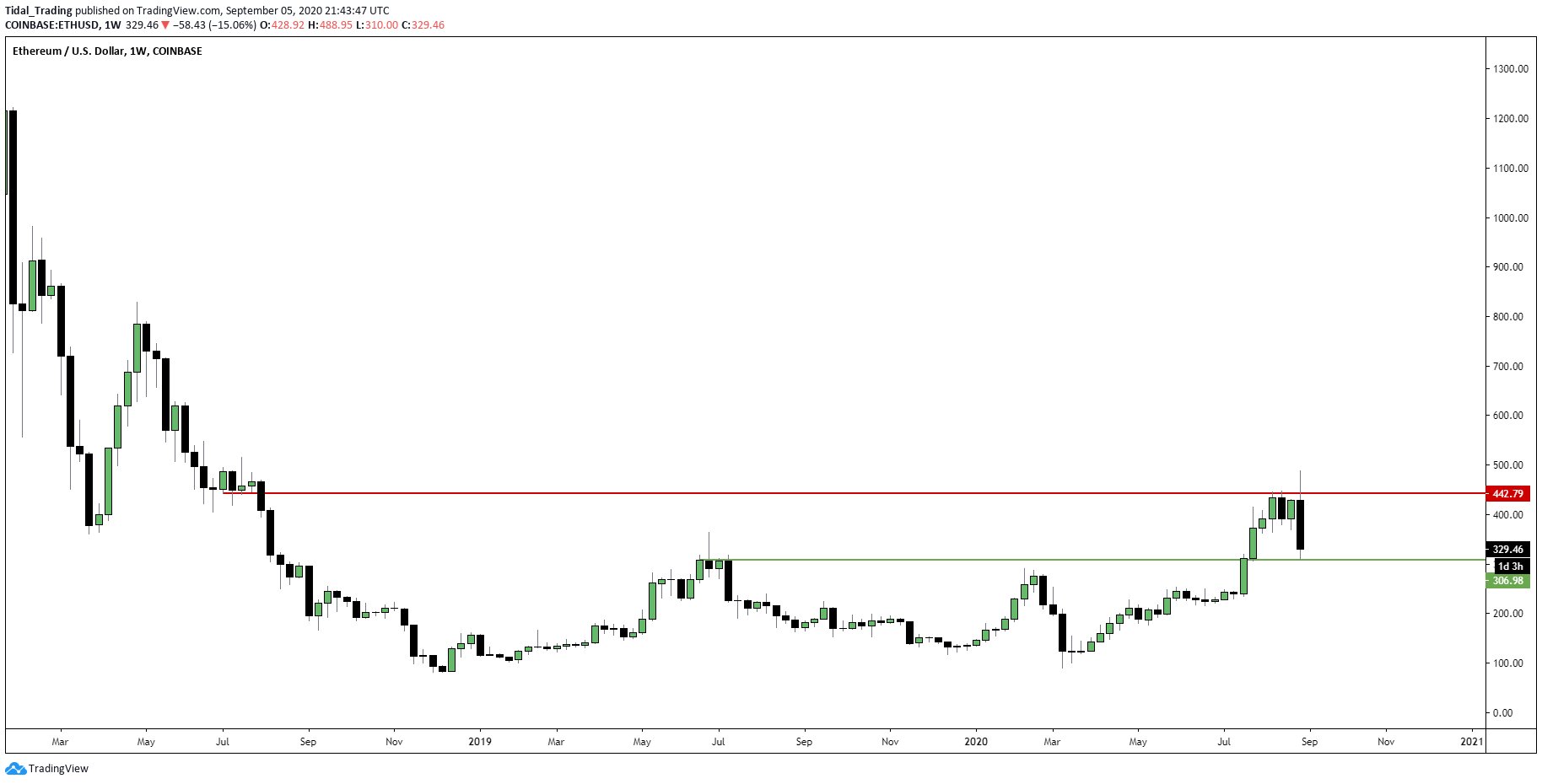 Chart of ETH's macro price action with analysis by crypto trader HornHairs (@CryptoHornHairs on Twitter). Chart from TradingView.com
A Bitcoin Bounce Is Also Expected
A Bitcoin bounce is also expected in the near future.
The crypto trader that two weeks ago predicted the ongoing Bitcoin correction recently said the following on the potential for a bounce:
"OK, here would be my perfect $btc scenario for next days. SFP 61.8% pattern, end of dump, maybe form something like a 4hr bull div (so a 4hr lower close between 10130 & 9970, higher low RSI). Bounce. Go take those highs /stops. Continuation of dump next week. Let's see what happen?"
Bitcoin's RSI has also reached notably oversold levels, adding fuel to the expectations of a move higher.
Featured Image from Shutterstock
Price tags: ethusd, ethbtc
Charts from TradingView.com
3 Signals Show That Ethereum Is Primed to Bounce After 35% Crash
Source: https://www.newsbtc.com/2020/09/06/3-signals-show-ethereum-primed-to-bounce-after-35-crash/?utm_source=rss&utm_medium=rss&utm_campaign=3-signals-show-ethereum-primed-to-bounce-after-35-crash
Da Vinci Capital Reportedly Requests $100 Million from Telegram for TON's Failure
A large investor in Telegram's failed Open Network (TON) has reportedly requested $100 million in compensation from the company. Otherwise, the investor – Da Vinci Capital – has warned with taking legal actions against the messaging platform.
TON Investor Demands $100M
Telegram's TON initiative was among the most widely-discussed blockchain-related projects in the past few years. However, the endeavor faced almost immediate backlash from the US Securities and Exchange Commission (SEC) as a US court decided at one point that the native currency – GRAMS – is a security token, which couldn't be sold in the US or anywhere else.
Telegram attempted on multiple occasions to fight the court's decision and to prove that GRAMS is not a security. However, to no avail and Pavel Durov, the company's CEO ultimately had to throw the towel by saying that "Telegram's active involvement with TON is over."
Although the company has distanced itself from the failed blockchain project, the problems keep following it, according to a recent report by Forbes Russia. Citing anonymous people familiar with the matter, the coverage said that Da Vinci Capital, an investor in the $1.7 billion initial coin offering, has requested compensation for TON's failure.
Lawyers from the Moscow-based investment company have reportedly sent a letter of intent to file a claim to Durov, Telegram Vice President Ilya Perekopsky, and other executives and lawyers involved with the project.
The report says that Da Vinci Capital had demanded roughly $100 million as compensation.
Two Weeks to Answer
Forbes' coverage further explained that Durov and his colleagues have two weeks to transfer the funds or notify the lawyers from the investment company if they decide to reject it.
However, if Telegram fails to answer in the provided timeframe, Da Vinci Capital has the right to take the matter to court.
Apart from these allegations, Telegram recently negotiated funding round to raise at least $1 billion in a private bond placement to accredited investors from Russia, Europe, the Middle East, and Asia. Those bondholders would be able to convert debt into shares at a 10% discount to the offering price if Telegram decides to go public in the next five years, revealed the conditions of the round.
SPECIAL OFFER (Sponsored)
Binance Futures 50 USDT FREE Voucher: Use this link to register & get 10% off fees and 50 USDT when trading 500 USDT (limited offer).
PrimeXBT Special Offer: Use this link to register & enter CRYPTOPOTATO35 code to get 35% free bonus on any deposit up to 1 BTC.
---
Source: https://cryptopotato.com/da-vinci-capital-reportedly-requests-100-million-from-telegram-for-tons-failure/
ChiliZ To Expand Operations, Will Invest $50 Million in the US
Following milestone partnerships with sports teams in Europe, ChiliZ have their eyes set on conquering the United States. The fintech platform will open a new office in one of the world's major commercial cities, New York.
ChiliZ To Set Up New York Office
Maltese blockchain giant, ChiliZ is scaling up operations after securing several partnerships with top European sports franchises. Reuters reported earlier today that the fan engagement platform would open an office and invest $50 million in the United States. According to its chief executive, Alexandre Dreyfus, the move should bring the firm within reach of top United States sports outfits. He told Reuters :
"A huge focal point for us in our global growth plans is the U.S.. That's why we're opening a New York office and investing $50 million into the country's sports industry in order to launch Fan Tokens with leading franchises from the five major U.S. sports leagues"
On launching Fan tokens, ChiliZ has made headway through its subsidiary, Socios. It has partnered with football behemoths like FC Barcelona, Juventus, Paris Saint-Germain, AS Roma, Galatasaray, and Atlético de Madrid to launch branded fan tokens. These permit owners to engage in club polls, access VIP rewards, and partake in chat forums.
The company currently has offices in Malta, France, Turkey, Korea, Switzerland, and South America. It had earlier announced that it would open offices in New York and Madrid. With the New York office inching towards reality, Chiliz is undoubtedly advancing towards global growth.
Aims To Double Up on 2020 Revenue
Speaking further about the expansion, Dreyfus boasted about his company's capacity to generate returns for its partners in the sports and entertainment industry. He said:
"We head to the U.S. with a proven track record in generating millions of dollars of revenue for some of Europe's biggest sporting organisations. In 2020, we shared more than $30 million with our partners, but this year we're targeting a minimum of $60 million."
Revenue from the company's partnership with seven-time European champions AC Milan proves Dreyfus is not bluffing. The Italian football giant launched its token ($ACM) on Binance on February 24th. Within hours of the launch, over $6 million was generated as trading volume hit $50 million in the first 30 minutes.
Big Market For ChiliZ?
For Joseph Edwards, Enigma Securities head of researcher, there is no better time to seize the initiative. He opined that the soaring interest in NFTs indicates a big market. He elaborated further that NFTs bridge the gap between fans and their subject of interest, especially as Covid-19 caused a disconnection.
"Fan tokens right now are just hitting the perfect itch at the perfect time – fans are disconnected physically from their fandom, and this helps bridge that gap,"
NBA Top Shots seems to be a perfect example. The NFT platform has continued to gain momentum as interest surges. It reached a record-breaking $231 million in sales over the past 30 days. Perhaps, ChiliZ is taking a cue from this to target the American sports market.
SPECIAL OFFER (Sponsored)
Binance Futures 50 USDT FREE Voucher: Use this link to register & get 10% off fees and 50 USDT when trading 500 USDT (limited offer).
PrimeXBT Special Offer: Use this link to register & enter CRYPTOPOTATO35 code to get 35% free bonus on any deposit up to 1 BTC.
---
Source: https://cryptopotato.com/chiliz-to-expand-operations-will-invest-50-million-in-the-us/
Crypto services firm BCB Group raises $4.5M led by North Island Ventures and Blockchain.com Ventures
BCB Group, a crypto payment/trading services provider, today announced it has closed a $4.5 million investment round. The strategic funding was co-led by North Island Ventures and Blockchain.com Ventures; with participation from Pantera, L1 Digital, and Pack Capital.
As a dual regulated institution, BCB Group offers an end-to-end suite of payment processing, cryptocurrency trading, and custody. Services are accessible through a unified API-enabled platform; allowing clients to access a full range of crypto-asset products in one place.
Funding
The proceeds of the round will be used to fund investments in several new initiatives…
These initiatives include: BCB Treasury, a service designed to help companies interested in investing in bitcoin as a treasury asset. BCB Yield Accounts, a product offering clients a return on their positions. And BCB Wealth Partners, a comprehensive crypto service for private wealth clients.
"There's so much more we want to offer our clients; and many untapped regions we'd like to be in to help those markets grow via reliable payments and market infrastructure. This funding round comes at a very exciting time for BCB Group and will be transformative for our client experience."
– BCB Group Founder and CEO, Oliver von Landsberg-Sadie
Previously, back in March 2019, BCB Group received funding from NKB Finance and a private investor in a $1 million seed round; which brought the company much-needed talent in engineering and operations.
Source: https://www.cryptoninjas.net/2021/03/02/crypto-services-firm-bcb-group-raises-4-5m-led-by-north-island-ventures-and-blockchain-com-ventures/